Kenyans Turn Against TV Presenters After Controversial Advice [VIDEO]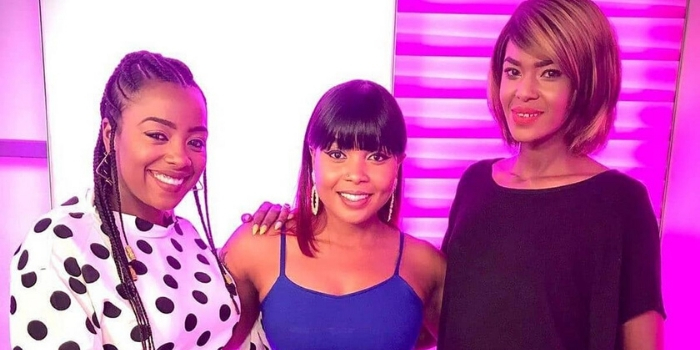 Kenyans have expressed disappointment and resentment against TV presenters who made controversial remarks on marriage during a show on Switch TV .
In the undated video seen by tmz.co.ke on Thursday, May 7, former Switch TV presenter Jackie Matubia (now at Rembo TV) and Teresia Ndoti (Kush Tracey) argued that certain standards should be maintained by men if they wanted to manage their relationships.
The discussion was centred around how men should treat women, in relation to house chores and responsibilities.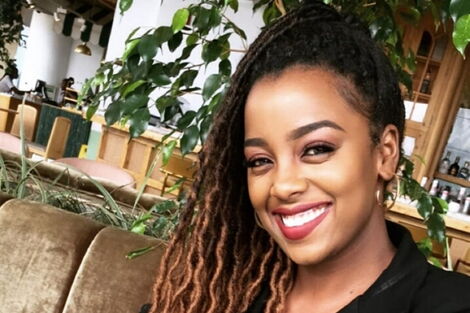 Former Tahidi High actress Jackie Matubia in an Instagram post on Monday, February 3, 2020
INSTAGRAM
"How can I undertake primary school, secondary school, university education, attain a masters and PhD, then go to a man's house to wash dishes?" Jackie Matubia, former Tahidi High actress wondered.
"Nowadays, why should a woman visit you if you can't cook. How can I visit your house and you want me to clean up and cook? Personally, my type of man should cook, wash and clean," Kush Tracey added.
The remarks sparked an uproar on social media, as Kenyans, some with dissenting voices and others supporting the anchors, weighed in on the debate.
"Modern-day women wonder why their marriages are not working. I pity if this is the advice you are listening to. This is a looming disaster. Help is asked for in a respectful way and not demanded," one Carl Furaha tweeted.
"Women of these days are very masculine.  Men don't care for your degrees!! Get help if you have to. Talk to your partner and share home duties amicably. A good man will listen. Stop this chest-thumping! Women still try to be equal yet want men to provide," one female netizen commented.
"Stop blaming them. Times have changed and ladies are empowered through education which has given them a say in the community, if we need marriage to work we need to tackle issues based on 21st-century events and not about those in 1990s," John Nzioki defended.
Robert Burale, a motivational speaker and pastor, differed with the panellists while speaking with tmz.co.ke  on Thursday, May 7.
The counsellor argued that marriage was something that two partners needed to devote time to nurture and watch it grow.
"When you get into marriage, you don't come with your PhD or the arrogance of your masters. Marriage is a compromise, where two people come together for a better life. Marriage is not a competition and if you bring competition, whether, with school documents or bank accounts, you will always compete and won't work together.
"Marriage is a place where two imperfect people love each other perfectly and respect each other. The problem is young men and women have believed what they see in social media and want to replicate perfection displayed in Mexican soap operas. Your PhD and bank accounts can't cook," he advised.
The decon warned that if one enters marriage with the purpose of competing, then they are not ready for a union.
"In a show, it is better to have a neutral voice when advising people on critical issues. You need to have protagonists and antagonists too so that you speak on behalf of everyone who is watching. If you attack men, they will switch off and vice versa. Its good to balance a show," Burale advised the panellists.
A sample of reactions to Switch TV presenters' controversial advice in an undated video
TWITTER
A sample of reactions to Switch TV presenters' controversial advice in an undated video
TWITTER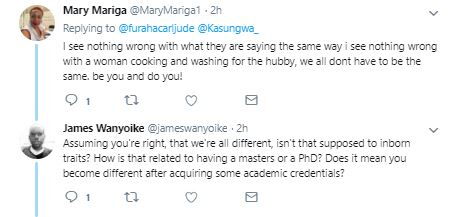 Reactions to Switch TV presenters' controversial advice in an undated video
TWITTER
Video: YouTube