Kenya's Coronavirus Cases Rise to 343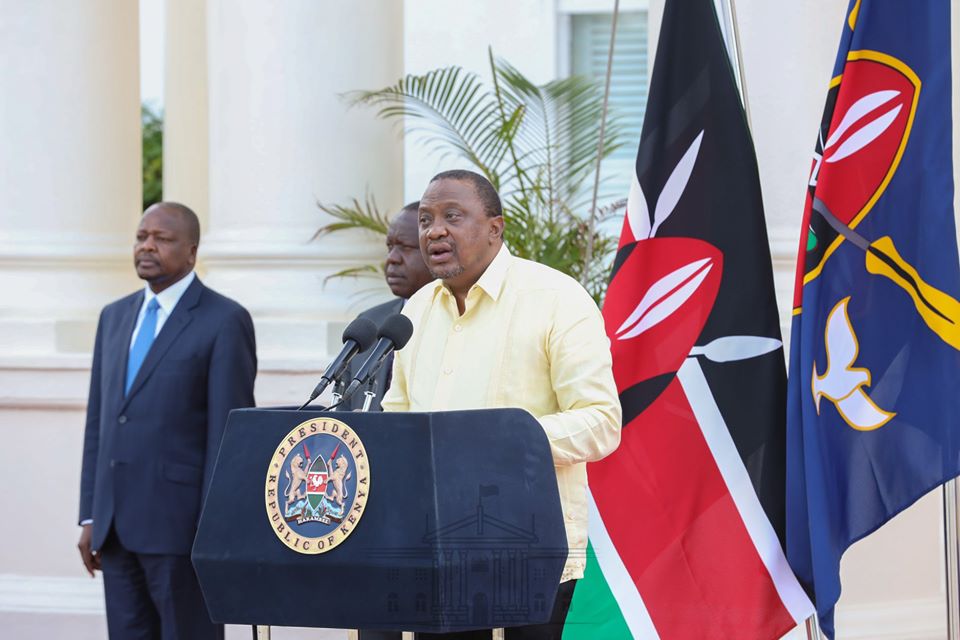 PSCU
President Uhuru Kenyatta has announced that the country has registered 7 more Covid-19 cases over the last 24 hours.
While issuing the Covid-19 daily update presser on Saturday, April 25, the head of state informed that the total number of persons who had contracted the virus stood at 343.
He further informed that 4 more had recovered from the virus and were discharged, taking the total number of recoveries from the virus in the country to 98.
President Uhuru Kenyatta addresses the nation at State House, Nairobi on Wednesday, March 25, 2020
PSCU
President Kenyatta revealed that the ministry of health had so far tested 17,492 people, and the country was proceeding with mass targetted tests.
The head of state commended the effort by the ministry of health and members of the public in curbing the spread of the virus, however, noted a worrying trend in the rise of cases.
President Kenyatta stated that his government would continue to head to constructive advice offered by key players in the health sector.
He called upon Kenyans to step up and aid in the fight against the virus, fully heading to the directives given.
"our victory would come from collective effort to fight this virus, individuals and institutions," President Kenyatta.
The head of state further moved to extend the national curfew and cessation of movement order by 21 more days.
"In accordance to the advice given to me by the National Emergency Response Committee on the coronavirus, the National Security Council has sanctioned that the cessation of movement to and out of the Nairobi Metropolitan area and counties of Kilifi, Kwale and Mombasa that are currently in force shall be extended for a further containment period of 21 days," he declared.
President Kenyatta stated that the government would not delay in deescalating the enacted safety measures, the moment health experts report decreasing cases of infection.
Related