Kenya's Covid-19 Cases Cross 300 Mark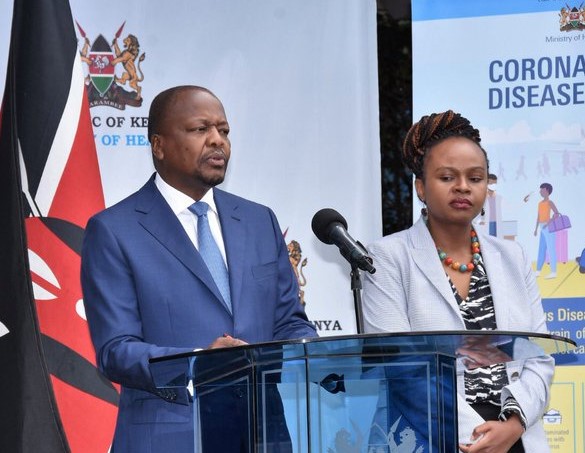 Health Cabinet Secretary Mutahi Kagwe (Left) and his Chief Administrative Secretary Mercy Mwangangi during a press briefing in March 2020.
Health CS Mutahi Kagwe in the daily press briefing on Covid-19 on Wednesday, April 22, announced that confirmed cases of the virus in the country had risen to 303.
Seven more cases were confirmed, with 707 samples tested in the past twenty-four hours.
All seven cases were Kenyans.
He noted that the World Health Organisation (WHO) projections of millions of infections in Africa was probable considering how the cases multiplied in Somalia and Tanzania.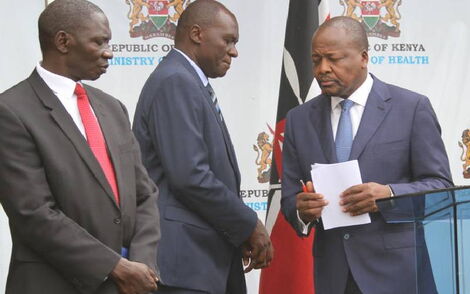 Government Spokesman Cyrus Oguna (left), Acting Ministry of Health Director-General Patrick Amoth (centre) and Health CS Mutahi Kagwe (right) during a press conference at the ministry's headquarters in Nairobi on March 30, 2020.
"The World Health Organisation warned that despite the seemingly slow pace of infections in Africa, the number of Coronavirus cases could surge from thousands to 10 million within three or six months.
"While this is a projection, it might as well be a reality in the coming days," stated Kagwe.
"As a government, our planning and actions are informed by global trend and our own analysis. A slight lapse in behaviour could roll back the gains we have made this far. This disease is calling for our total undivided commitment and unity," he added.
He further announced that the country had acquired 25,000 mass testing kits and the state was targeting to test 250,000 people by end of June.
"Regarding mass testing, the exercise is ongoing, targeting mass areas which include healthcare workers. We currently have 25,00 testing kits which shall be deployed for this activity.
"The government has today directed restriction of movement inside and out of Mandera County," announced Kagwe after the total cases in the county rose to 8.
A statement from the Ministry of Health also appealed to Kenyans to treat all patients who are discharged from the hospital with love and care and should not discriminate against them.
"Treat all those who got out of hospital or quarantine with love and care. Protect those who are vulnerable and provide support when required," read the statement in part.
The number of infections worldwide, according to Worldometer, standards at 2,579,852 with 179,059 lives already lost.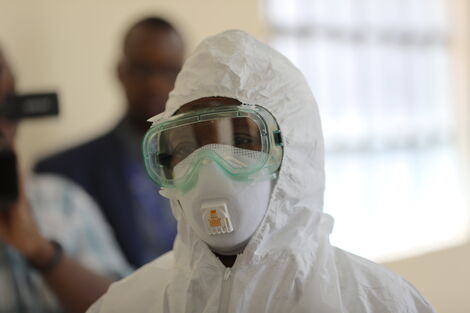 A medical practitioner dressed in protective gear at Coronavirus isolation and treatment facility in Mbagathi District Hospital on Friday, March 6, 2020