Kiambu Man Goes Viral After Hilarious 'Interview' With CNN [VIDEO]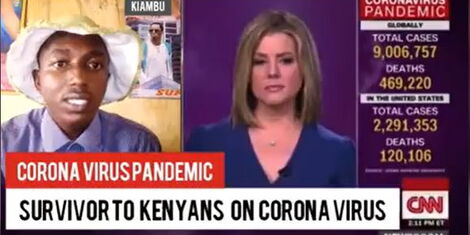 A man from Kiambu County lit up the internet for the better part of Friday evening, August 21, and Saturday morning, with a hilarious edited interview with CNN anchor Brianna Keilar.
In the split-screen 'interview', the Kenyan man, whose name has not been identified, narrated his story as a COVID-19 survivor in what could only be termed as rib-tickling.
"Let me first return many many thanks to you for inviting me to speak inside a television. You are catching me one on one from Kiambu in Kenya….(sic)
"I was at the base selling muturas when I started hearing English English and I thought it is because I did not get enough sleep because the neighbors were fighting about the child looking like me…staying a little, my head started biting me and I thought it is because I had not taken tea in the morning (sic)," the Kenyan explained in a slow-paced voice.
His mode of dressing, a sun hat and a blue shirt, blended well with his thought out comical words as well as his accent.
The video has since attracted the attention of media celebrities including; radio presenters Maina Kageni and Alex Mwakideu, with a section of Kenyans suggesting that the comedian should be tracked down.
"This guy must be a graduate or something close. He mixes humor and intelligence with great ease. The video mixing too is on another level. We need to get these guys real jobs not unblocking the sewer," Njoroge Githumbe suggested.
"It is these experiences that help to relieve the pain of being a Kenyan!" Boniface Mouti weighed in.
Some netizens were unable to tell whether the viral video was falsified and TMZ.co.ke independently verified that the interview was edited with Kelvin Mwirigi, a video editor, explaining why.
"The dead giveaway is that the video is clearly placed on top and didn't fit well because around the edges, we can see the underlying video," Mwirigi stated.
Other than that, Mwirigi noted that the video had jump cuts, different font, and some of the graphics used by the International media house, were missing.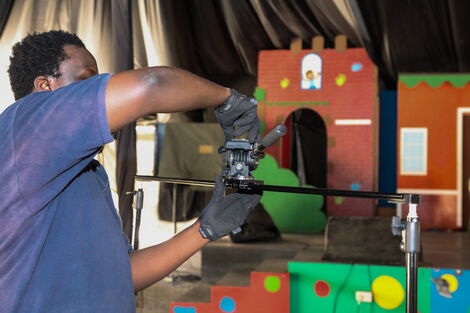 Kenyans.co.ke video editor Kelvin Mwirigi on the set of a past live production
Related