Kisumu MCA Beats Up Standard Media Journalist After Disagreement Over Covid-19 Money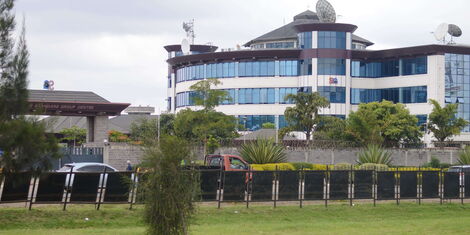 A member of Kisumu County Assembly is now under the police radar after reportedly assaulting a journalist over a story the reporter was following up on regarding Covid-19 funds.
Speaking to tmz.co.ke Victor Bwire, a representative from the Media Council of Kenya (MCK) disclosed that the Standard Media journalist Kevin Omollo was roughed up by the unidentified lawmaker after asking a critical question regarding the county's Covid-19 funds.
The MCA reportedly assaulted him demanding the reporter to stop asking questions regarding the fund.
The incident took place in the week beginning Monday, May 3.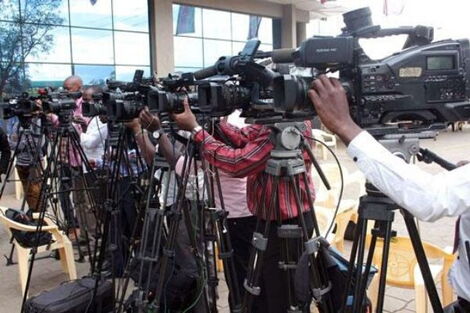 Journalists docked at a media centre while covering an event.
TWITTER
"He asked Prof Anyang' Nyong'o (Kisumu governor) what happened to the money they had spared for Covid-19. Where is it and what has it done? that is the question that brought problems.
"He (journalist) was roughed by the MCA who thought Anyang' Nyong'o should not be asked such questions. He threatened him and said that he (the MCA) was not afraid of being taken into custody," stated Bwire.
This was in line with a statement from the watchdog urging Kisumu County Commander Ranson Lomodooni to hasten the case and deliver justice to the journalist.
The letter also highlighted another journalist's assault case, TV 47's Daniel Dembede, who was attacked by unidentified people and lost his valuables in the process on Friday, May 1.
"Mr Daniel Dembede, a journalist working for TV 47, was attacked by unknown persons around Mowlem area in Kisumu. He lost his video camera, hard disk, microphone and stand.
The two cases were reported to Kondele Police Station and Kisumu Central Police Station.
"The Media Council of Kenya is concerned by the attacks on journalists in the course of their duties, especially during the Covid-19 pandemic and is, therefore, calling on Kisumu County Commander Ranson Lomodooni to launch investigations into the two incidents and others raised in the recent past to assure journalists of their safety," continued the letter.
Since the pandemic hit the country and dusk to dawn curfew declared, journalists, as well as the general public have become susceptible to attacks with the latest being that of Pamoja FM presenter Mohammed Marjan who was killed in the wee hours of the morning after leaving the studio.
A 14-year-old suspect was arrested and detained on Tuesday, May 12, in connection with the murder.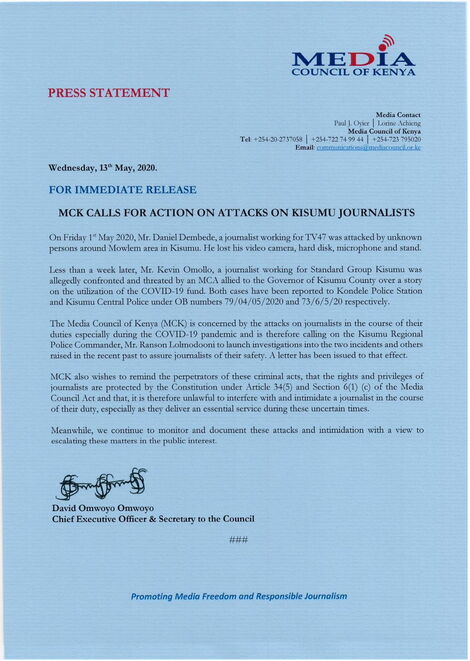 MCK statement on journalists assault released on Wednesday, May 13, 2020.
TWITTER