Kithure Kindiki Returns to Uhuru With 2 Appeals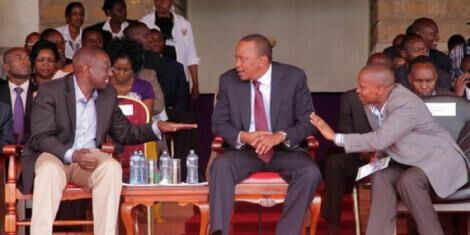 Days after being ousted for disrespecting Jubilee Party Leader Uhuru Kenyatta, former Senate Deputy Speaker Kithure Kindiki on Tuesday, May 26, returned to the political scenes with a message specially designed for the President.
Kindiki who is still nursing political blows from impeachment at the Senate, asked President Uhuru Kenyatta not to forget the people who he represents in Parliament.
"In the meantime, I respectfully appeal to President Kenyatta's administration to hasten the completion of several roads, water and other development projects that began in 2013 but have since stalled," wrote Professor Kindiki.
Tharaka Nithi Senator Kindiki Kithure (left) with Deputy President William Ruto (right) after attending a conference in 2019
FILE
Senator Kindiki also vouched for the need to politically recompense residents of Tharaka Nithi County, having lost a plum slot in the Senate.
"Additionally, I request His Excellency the President to compensate the people of Tharaka Nithi for my removal by appointing another son or daughter of the county to a senior position in government, in the wake of reports of a possible reorganisation of the government," Kindiki requested.
He further addressed reports over his social media accounts adding that any remarks attributed to him on the said accounts were not his.
"I have not issued any other statement through any media. I shut my Facebook and Twitter Accounts two years ago and I am not on social media. When I decide to return, I will do so formally.
"I ask Kenyans to ignore unknown persons who I am told have opened Facebook and Twitter accounts under my name and are using them to maliciously spew unhelpful rhetoric uncharacteristic of me," he noted.
The former Deputy Speaker further thanked the Ameru Council of Elders Njuri Ncheke, the Tharaka Council of elders, political leaders and the Kenyans who stood with him during his ouster.
Prior to the motion, the Njuri Ncheke had appealed to the president to suspend the planned ouster of Kindiki as they sort to mediate over the issue.
Their appeal was however not honoured as 54 senators overwhelmingly voted for his removal.
When he took to the floor of the Senate during his impeachment debate on Friday, 22 May, Prof Kindiki rejected the notion that he was disloyal to the President and the party.
"His Excellency President Uhuru Kenyatta, whom I am being accused to have disrespected should know that I have always and will forever respect him."
"I hold him in the highest esteem and veneration as the leader of our country and the symbol of the unity of our nation," Kindiki asserted.
The Senate is set to elect a new deputy speaker on June 2, following the gazettement of Kindiki's removal and the seat declared vacant.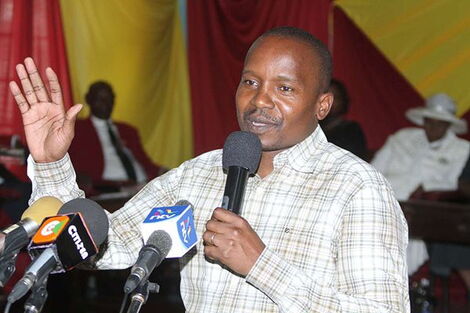 Tharaka-Nithi Senator Kithure Kindiki speaking at a past event.
Related