KTN Anchor Michael Gitonga Nearly Runs Over Pedestrian on Live TV [VIDEO]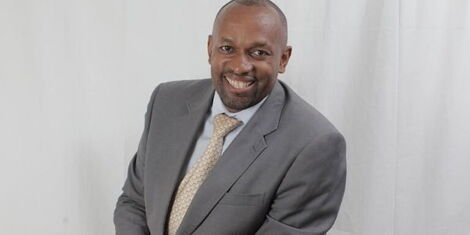 KTN News Morning Express show host Michael Gitonga nearly ran over a pedestrian along Ngong Road during a televised episode to celebrate cycling.
In the video recorded on Wednesday, June 3, the anchor was enjoying the expanded highway that includes a cycling lane to accommodate bicycles while highlighting some of the challenges cyclists go through while in Nairobi.
During the broadcast, the anchor was addressing the audience while cycling when a woman appeared in front of his bicycle forcing him to dodge quickly.
"To my left, there is a ditch which becomes somewhat of a problem. You need to improve your whistling skills. The cycle lane cuts right into a bus stop.
KTN News anchor Michael Gitonga.
"Right there was a disaster that was about to take place. as you can see, I have to ride right where the cars are which should not be the case," stated Gitonga after the encounter at the bus stop.
He was carrying out the live broadcast to celebrate June 3, globally recognized as World Bicycle Day.
He criticized the city's design for bicycle lanes noting that having them crisscross paths with roundabouts and bus stops made cycling difficult.
"The design of the cycling is not that good because look, this is a bus stop and there is a matatu behind me so I literally have to go round.
"There are also pedestrians here and that makes that much more difficult so if we have anybody from the Nairobi Metropolitan Service (NMS), kindly ensure that the design considers cycling," he added.
NMS has highly touted the cycling lane as the next frontier aimed at reducing traffic in Nairobi City with works to expand highways to accommodate the lane kicking off from Moi Avenue past Serena Hotel at the Integrity Centre junction.
Other streets that the works have begun include Wabera and Muindi Mbingu streets as well as Kenyatta Avenue.
Kenya urban roads authority (KURA) also celebrated the introduction of bicycle lanes around the city.
"As we mark the World Bicycle Day, we have incorporated Cycle Lanes in most of our Road projects and moving forward a greater priority is being given to Non-Motorized Transport," shared KURA in a statement.
According to data provided by National Transport Safety Authority (NTSA), an estimated 90,000 vehicles get onto Nairobi roads every year.
The resultant traffic snarl-up costs the country revenue to a tune of Ksh50 million daily.
Related