KTN News Beats Citizen TV in Global Brand Trust Ranking
Since its launch in 2015, KTN News is finally asserting its authority in the media industry after it ranked ahead of Citizen TV as the most trusted TV station in the country.
According to a recently released report dubbed Reuters Institute Digital News Report 2020, KTN News scored a 90 per cent trust ranking ahead of Citizen TV which tied in the second position with 89 per cent alongside NTV, Daily Nation and The Standard.
Yours truly, Kenyans.co.ke, was also ranked in the report as the second most preferred online brand behind Daily Nation.
The study also noted that half of the country's 54 million population trusted the media for news.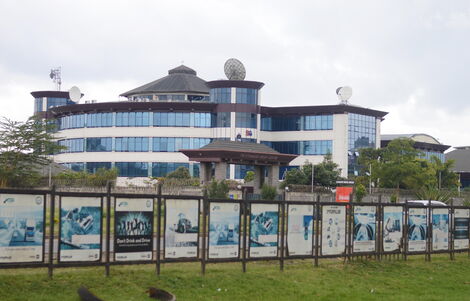 The Standard Media Group Mombasa Road Offices . Thursday, October 14, 2019
"Kenya has relatively high levels of trust in the media, with half (50%) saying they trust most news most of the time. Lively commercial TV networks pull in big audiences for news and are highly trusted.
"The public broadcaster KBC is trusted less, with tabloid newspapers least trusted in our survey," read the report in part.
Citizen TV, however, maintained a stellar performance as the country's most-watched offline media outlet followed by Daily Nation, NTV, The Standard, KTN News and KTN Home in that order.
The study also showed that Kenya beat South Africa, the second-biggest economy in Africa as of 2018, in internet reach with 87 per cent of its population able to access internet against South Africa's 55 per cent.
South Africa boasts of a population of 59 million.
It was also revealed that 90 per cent of the population consumed its news through online sources with 77 per cent getting it exclusively from social media. Print trailed with 47 per cent while TV stood at 74 per cent.
Also, phone penetration in the country trounces computers and tablets as 83 per cent consume their news via the mobile.
Statistics from Statista depicted the number of mobile-cellular subscriptions in Kenya from 2000 to 2018 was at 49.5 million.
A report by Geopoll ranked Citizen TV as the biggest gainer amongst local stations, upping their number to 2.045 million with an increase of 159,000 more viewers since the pandemic was announced in Kenya.
Citizen TV's rise can be attributed to their more appealing shows and contents to local consumers. When schools were closed, the media house changed its programming to suit students and young children.
Kenyans.co.ke, on the other hand, has remained steadfast in the digital arena with cutting edge inventions in digital marketing.
The Nation Centre building in Nairobi's Kimathi Street where the Nation Media Group offices are located. Monday, October 21, 2019
Related