KWS Issues Warning Over 5,500 Uhuru Jobs Offer
TWITTER
Kenya Wildlife Service (KWS), on Monday, November 23, cautioned Kenyans over some 5,500 jobs that had been fronted by President Uhuru Kenyatta.
In a statement, the service disclosed that fraudsters had infiltrated the process and were issuing fake appointment letters to prospective Kenyans looking to serve as community scouts.
The conservation authority also clarified that the process of disbursing letters to successful applicants had not commenced.
"The attention of Kenya Wildlife Service has been drawn to fake appointment letters, purporting to place successful applicants in previously-advertised community scout jobs.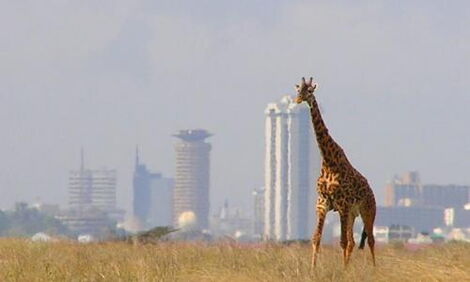 File image of the Nairobi National Park
FILE
KWS
"We wish to clarify that all applications received for these posts are still being processed," read the statement in part.
In a statement, KWS had announced that it was scouting for the individuals who would help it in wildlife conservation.
The project was part of a Covid-19 stimulus announced by President Uhuru Kenyatta during his seventh Presidential Address in May 2020.
"Kenya Wildlife Service (KWS) is a State Corporation whose responsibility is to manage and conserve wildlife in Kenya.
"The Service seeks to engage 5,500 Community Scouts drawn from communities within wildlife areas to assist in wildlife conservation efforts as part of the National Government post-Covid-19 economic stimulus program announced vide the Seventh Presidential Address on the coronavirus pandemic on May 23, 2020," stated the KWS advertisement.
The organisation further noted that it was engaging authorities to apprehend the perpetrators of the deception scheme.
"In the meantime, KWS, in collaboration with relevant national security agencies, is investigating the matter to bring to book culprits behind this fraud.
"Members of the public who come across, or are approached by such fraudsters, are advised to report the matter to any KWS office across the country," continued the statement.
The community scouts, once hired, will be expected to help the organisation in the early warning for resolution of human-wildlife-conflict.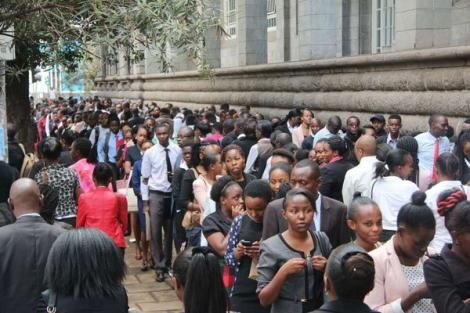 Jobseekers queue on Wabera Street, Nairobi, as they wait to be interviewed by The Sarova Stanley on May 26, 2018
Related