La Liga, Premier League, Serie A Return: How to Watch it Live in Kenya
Live sports action is set to return to stadiums and screens around the world following a hiatus occasioned by the global Covid-19 pandemic.
Serie A, La Liga, the Premier League, Formula 1, golf's PGA Tour, IAAF athletics, Super Rugby Aotearoa and horse racing are all back on the menu, a welcome treat for sports fans.
In Kenya, the return of the Premier League on Wednesday, June 17 when Manchester City faces Arsenal and Sheffield United faces Aston Villa remains arguably the most anticipated sports moment.
In this article, Kenyans.co.ke takes you through the world-class sporting events making a come-back. Importantly, DSTV and GoTV remain your best bets to watch them, on Supersport.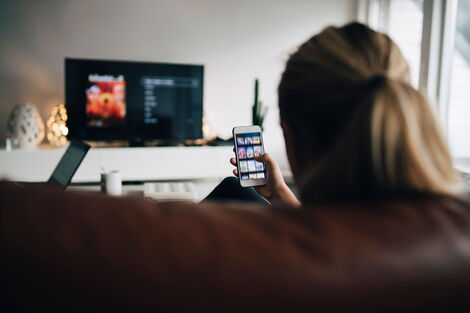 A file image of a person watching TV
Premier League
Premier League football has been missing in action since a suspension was announced on March 13 in a bid to stop the spread of Covid-19.
The league is set to return to Supersport on Wednesday, June 17 with strict conditions to be observed including playing behind closed doors.
Manchester City v Arsenal and Aston Villa v Sheffield United, two catch-up fixtures, will be played on June 17, before a first full round of fixtures running from Friday 19 to Monday 22 June.
With league leaders Liverpool needing only two more wins to clinch the title, they could win it in their first fixture back away to Merseyside rivals Everton depending on Man City's results.
Wednesday 17 June
TBD: Manchester City v Arsenal
TBD: Aston Villa v Sheffield United
Friday 19 June – Monday 22 June
First full round of Premier League return
La Liga
Spain's La Liga, one of Europe's top five leagues, will be the first to return to Supersport with matches slated for the evening of Thursday, June 11 when Sevilla clashes with Real Betis.
Fans will be keen to watch how the league plays out, with a nail-biting finish on the cards given the two-point gap separating Barcelona and Real Madrid at the top of the league.
Broadcast schedules all time CAT
Thursday 11 June
22:00: Sevilla v Real Betis
Friday 12 June
19:30: Granada v Getafe
22:00: Valencia v Levante
Saturday 13 June
13:00: Espanyol v Deportivo Alaves
17:00: Celta Vigo v Villarreal
19:30: Leganes v Real Valladolid
22:00: Mallorca v Barcelona
Sunday 14 June
13:00: Athletic Bilbao v Atletico Madrid
19:30: Real Madrid v Eibar
22:00: Real Sociedad v Osasuna
Serie A
Another of Europe's top leagues is set to resume in Italy on the weekend of Friday, June 19 – June 21 , with a full round of matches expected.
Before the league was suspended, Antonio Conte's Inter Milan had emerged as worthy challengers for the title even as champions Juventus worked to continue their dominance.
Formula 1
The 2020 Formula 1 season is expected to begin on Sunday, July 5 with an opening race at the Red Bull Ring in Austria.
Two closed door events in Austria, on July 5 and July 12, will be followed with six Grand Prix across Europe.
Formula 1 stated that it hoped to have between 15 and 18 races in total, with the season expected to be completed in December.
Formula 1 Calendar
3-5 July: Austrian Grand Prix (Red Bull Ring, Spielberg)
10-12 July: Steiermark Grand Prix (Red Bull Ring, Spielberg)
17-19 July: Hungarian Grand Prix (Hungaroring, Budapest)
31 July-2 August: British Grand Prix (Silverstone, Northamptonshire)
7-9 August: 70th Anniversary Grand Prix (Silverstone, Northamptonshire)
14-16 August: Spanish Grand Prix (Circuit de Catalunya, Barcelona)
28-30 August: Belgian Grand Prix (Spa-Francorchamps, Stavelot)
4-6 September: Italian Grand Prix (Monza, Milan)
Major live events over the next two weeks on SuperSport – Confirmed broadcast schedules
Friday 5 June
14:30: Horse racing: Investec Coronation Cup – LIVE on SuperSport 1, SuperSport 10 and SuperSport
Sunday 7 June
02:00: MMA: UFC 250 preliminary card – LIVE on SuperSport 1, SuperSport 11
02:40: IndyCar: Genesys 600 – LIVE on SuperSport 2 and SuperSport 8
04:00: MMA: UFC 250 main card – LIVE on SuperSport 1, SuperSport 11
21:00: NASCAR Cup: Folds of Honor QuikTrip 500 – LIVE on SuperSport 2 and SuperSport 8
Thursday 11 June
01:00: NASCAR Cup: Blue-Emu Maximum Pain Relief 500 – LIVE on SuperSport 2 and SuperSport 8
20:00: IAAF Diamond League: Oslo Impossible Games – LIVE on SuperSport 1, SuperSport 8 and SuperSport Select Go 3
21:00: PGA Tour: Charles Schwab Challenge Day 1 – LIVE on SuperSport 6
Friday 12 June
22:00: PGA Tour: Charles Schwab Challenge Day 2 – LIVE on SuperSport 6
Saturday 13 June
07:00: Aotearoa Rugby: Highlanders v Chiefs – LIVE on SuperSport 1, SuperSport 5
19:00: PGA Tour: Charles Schwab Challenge Day 3 – LIVE on SuperSport 6
Sunday 14 June
05:00: Aotearoa Rugby: Blues v Hurricanes – LIVE on SuperSport 1, SuperSport 5
19:00: PGA Tour: Charles Schwab Challenge Day 4 – LIVE on SuperSport 6
21:30: NASCAR Cup: Dixie Vodka 400 – LIVE on SuperSport 2 and SuperSport 8
Monday 15 June
01:00: WWE Pay-per-view: Backlash – LIVE on SuperSport 1, SuperSport 4, SuperSport 9, SuperSport Select Go 5 and WWE Channel 128
Related