Lamu to Get Lion's Share Under Kang'ata's Revenue Formula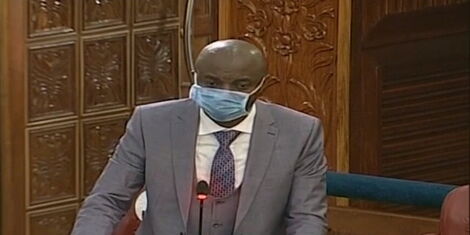 Murang'a Senator Irungu Kang'ata on Wednesday, July 30, explained his 3rd basis revenue sharing proposed formula.
Speaking to TMZ.co.ke, the Senate Majority Chief Whip revealed that under his proposed revenue sharing formula, it was actually the marginalized counties that would get the biggest slice of the 'cake'.
From a detailed break down of how much each county would receive, Lamu led with a Ksh2.8 billion allocation which translates to Ksh19,551 per resident with it's population of 143,920.
"It is not true that the third basis wants to oppress some marginalized counties. We believe in one united and strong Kenya," he stated.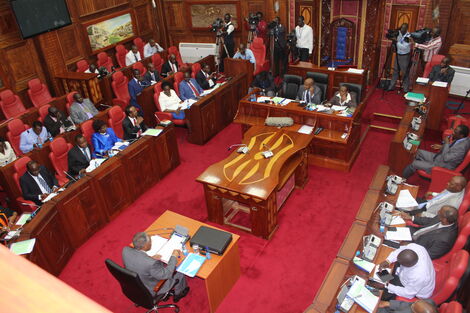 Proceedings underway at the Senate during a past session.
On the other hand, Nairobi County would get Ksh17.1 billion, which translates to Ksh3,900 per head with a population of 4,397,073 as per the 2019 population census.
The senator was able to rally 17 Jubilee Senators to back his proposal with 5 NASA legislators voting against it.
However, despite Lamu residents seemingly getting the bigger chunk per head, the formula has come under fire as the funding is meant to be used for development projects.
It is this particular issue that led to the heated debate in the House that ran well into Tuesday night, July 28.
Senators who were against the new formula argued that counties with high poverty levels and small populations would lose out on the equitable horizontal share compared to those with high populations.
Siaya Senator James Orengo, during his impassioned speech, accused President Uhuru Kenyatta of being inaccessible at a time he was needed the most.
Notably, the Siaya Senator lauded his Murang'a counterpart for approaching him in a bid to find common ground.
The radical shift from the first and second revenue allocation formulas with a huge weight placed on population was the chief bone of contention.
Some of the senators argued that if passed as is, 29 counties would greatly gain with 18 set to lose out.
Makueni Senator Mutula Kilonzo Jnr further made his own amendments stating that he was looking to cushion counties from losing any allocation.
On his part, Leader of Majority Samuel Poghisio backed Senator Kang'ata's proposal, and argued that if examined critically, the so-called losers were the actually gainers.
In the end, the legislators were unable to come to a consensus leading to the debate being postponed.
The Senators will resume debate on the proposed amendment on the third basis formula for sharing revenue among counties on August 4.
According to the sixth schedule of the constitution, the first and second determinations of the basis of the division of revenue among the counties shall be made at three-year intervals.
The first basis Formula was passed by the National Assembly on November 27, 2012, and sharing was based on five parameters namely: population 45%, poverty gap 20%, land area 8%, basic equal share 25%, and fiscal responsibility 2%.
On the other hand, the second basis formula passed by parliament on July 6, was based on six parameters namely: basic equal share 26%, population 45%, land area 8%, poverty 18%, fiscal effort 2% and development factor 1%.
Watch Orengo's impassioned speech below:
Related