Leyla's Wimbo WA Historia Turned Into COVID-19 Anthem [VIDEO]
Salome Wairimu performing the "Janga la Corona" song in her official video.
Salome Wairimu a 10-year-old girl composed a "Janga la Corona" song in a rendition of "Wimbo wa Historia"
The song premiered on YouTube on Thursday, April 23, and immediately blew up, garnering over 15,000 views by midday on Friday, April 24.
Wairimu's new hit is a rendition of Wimbo was Historia which was sung to mark Kenya's dark colonial period.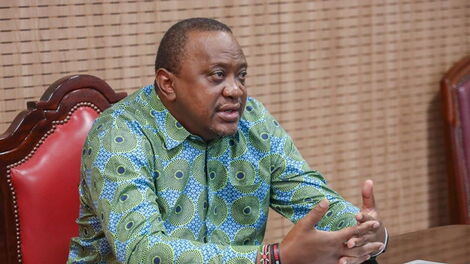 President Uhuru Kenyatta chairing a virtual meeting with the special coronavirus emergency taskforce on April 1, 2020.
The girl from Eldoret and has won over hearts including Citizen TV Swahili news anchor Rashid Abdala, who posted the song on Instagram with the caption, "#sisemikitu. It is possible to fight coronavirus if we are all dedicated. Salome Wairimu."
In an interview with KTN News, Wairimu sent a message to the President, "I would like to tell our president not to tire in setting rules to mitigate the disease."
She also shared how she accidentally came up with the song, "I composed the song on my own, I wrote is as a composition and I had not thought about it as a song.
"When I was writing it I was just doing it for fun. I started singing it when I was at home. My family heard me and they developed an interest and opted to take me to a studio where they included the beats."
The gifted girl went on to add that she did not expect the song to bring her fame, "This is something that I've really interested in. I'll say that I thank God, because I didn't expect the song to get me this far," she remarked.
The song narrates the origin of Coronavirus, and how it grew to become a global pandemic that led to the indefinite closure of schools. She goes on and asks God to deliver the people from the pandemic.
The piece was sung in Swahili, a language familiar to most Kenyans, thus amplifying her timely message to a wider audience.
A number of Kenyans were impressed with Wairimu's new song judging from the comments shared across various social media platforms, "Of all the corona songs that have been sung by all artists…this is the one to listen to at all times, well-done Wairimu."
"The message is lit, the voice is touching na wimbo Ni wa huzuni pia (the song is really touching) this girl is dope. She's going places."