Loan Apps Given New Standards on CRB Listing
TWITTER
624 digital loan apps have been issued with new requirements before being allowed to list Kenyans on the Credit Reference Bureau (CRB).
The Central Bank of Kenya (CBK) had previously blocked the mobile lenders and micro-financiers from forwarding defaulters' names on the CRB platform. The digital lenders were accused of misusing the Credit Information Sharing (CIS) mechanism causing an uproar from borrowers.
A proposal to screen the lenders was forwarded to the CBK by the Credit Information Sharing (CIS) and Financial Sector Deepening (FSD) an independent trust focused on attaining an inclusive financial system, according to the Business Daily.
The new measure will be used to analyse whether the lenders meet stipulated standards before being re-admitted to share borrowers information on defaults and loan payments.
File image of Kenyan bank notes
TWITTER
Digital lenders seeking readmission will have to explain their legal operations, provide information on their technical staffing capacity and their credit provider or financier.
They will also be required to avail their data submission templates and data capturing techniques.
CIS detailed that it had tested the criterion on 16 regulated lenders and only five fitted the standards. 9 unregulated microfinance institutions, two trade creditors, four Saccos and 16 leasing companies were also tested.
Preliminary results from the pilot phase indicated that the loan apps which failed the test couldn't provide their physical locations or address, terms and conditions and also failed to personally address concerns raised by customers.
The digital loan lenders were accused of using the CRB platform to threaten customers, misusing personal data and illegally contacting borrower's relatives. The new criterion will be enforced once CBK approves the proposals forwarded.
CBK, while excluding the 624 loan apps, retained 39 banks, 14 microfinance banks, 1,353 unregulated SACCOs and 164 regulated Saccos in the CRB after locking out the digital lenders. The decision led to a nearly 50 percent decline in digitally issued loans.
"We were extending credit averaging Ksh4  billion pre-Covid but our loans went down by more than 50 percent in 2020 due to the new government regulations put in place to regulate digital money lending after Covid-19 cases were detected in the country," Digital Lenders Association of Kenya Chairman, Kevin Mutiso stated.
According to the association, approximately six million clients borrow Ksh4000 on average in a month.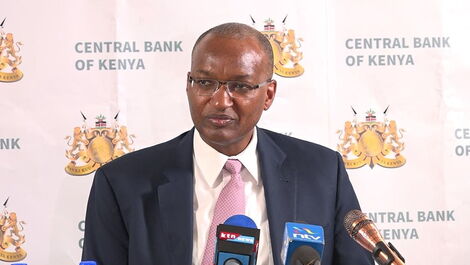 Central Bank of Kenya Governor Patrick Njoroge addresses a news conference at the Central Bank's buildings on Tuesday, May 28, 2019.
Related