LSK Moves to Deregister AG Kihara From List of Lawyers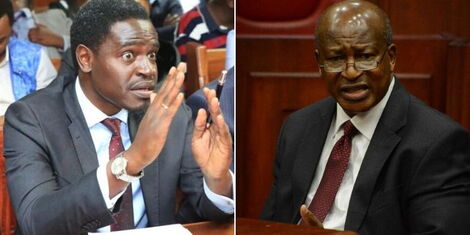 The Law Society of Kenya (LSK) on Friday, June 12, initiated the process of deregistering Attorney General Paul Kihara from its list of lawyers.
The notice issued by the institution's council led by its President Nelson Havi also sought to expel Solicitor General Kennedy Nyabuti Ogeto from its list of members.
"AG Kihara's conduct in the failure to swear in the 41 nominated judges is concerned, amounts to gross misconduct, subversion of the rule of law and contravenes his duties and obligations as an advocate of the High Court and a member of the LSK," the council stated.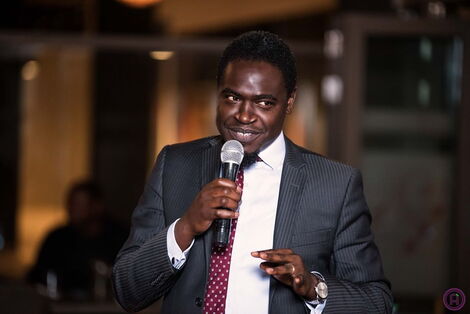 LSK President Nelson Havi speaking a forum in 2019
The legal body further faulted the AG for failure to gazette advocates as part of the essential services, after President Uhuru Kenyatta instituted the curfew order, despite a court order.
"Attempts by the Law Society of Kenya to ensure compliance with the decree of the court were made with a request to Paul Kihara and his deputy Kennedy Ogeto but no compliance is forthcoming.
"Members of LSK have to-date not been gazetted as essential services providers, notwithstanding the fact that the decree of the High Court has not been set aside or stayed," the statement read.
LSK noted that the actions of the two legal professionals amounted to gross misconduct.
"It is just, lawful and proper that AG Kihara and the Solicitor General be expelled from the membership of the LSK as they have brought ridicule, shame, disrepute and dishonour to the office of an advocate and a member of the LSK.
AG Kihara and Ogeto have been given seven days to tender their written defence and will be heard at the Annual General Meeting on 23rd July, on the question as to whether or not they should be expelled from the membership of the LSK.
The legal society had earlier on raised concern over Judicial officials who are allegedly aligned with the Executive and are being used to manipulate the constitution in favour of the government.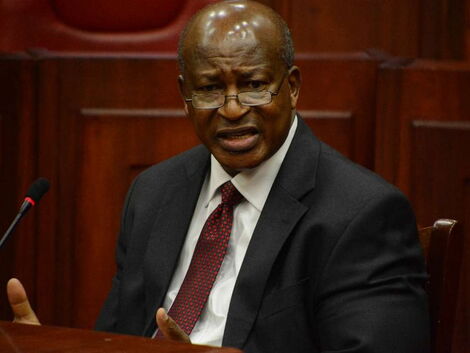 AG Paul Kihara appearing before a parliamentary committee in 2019.
In 2014, the LSK attempted to eject former AG Githu Muigai from the society on the grounds of gross misconduct over the handling of the  Angloleasing scandal.
The case was dismissed in a 2015 ruling by a three-judge bench comprising of Justices Weldon Korir, Mumbi Ngugi and George Odunga.
"We declare that the acts of the respondents of summoning the petitioner to question his conduct in the performance of his duties as Attorney General of the Republic of Kenya is ultra vires their powers under the Law Society Act and therefore unlawful and unconstitutional.
"We hereby quash the proceedings initiated by the respondents for the purpose of issuing the petitioner with a "certificate of dishonour"," the ruling read in part.
Related