Magoha Gets Real With Parents on New Reopening Costs
Education CS George Magoha on Sunday, June 14, revealed that parents will have to bear some costs of acquiring personal protective equipment (PPE) ahead of school reopening.
Magoha visited schools in the counties of Vihiga and Kakamega to inspect the availability of water and other facilities ahead of the scheduled resumption of learning countrywide.
"We must tackle this problem together, it is the duty of government to provide thermo guns. What I have said is that, us together with you people, we shall apply the thermo guns.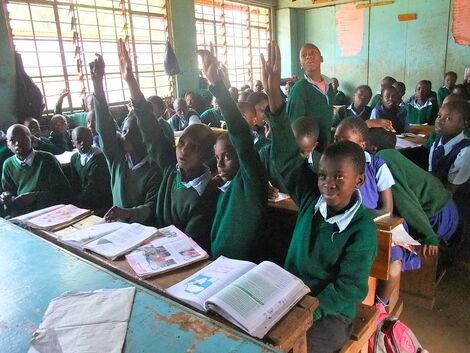 Students during a lesson at Kibra Primary School. Dr Stella Bosire studied at the school before she was expelled in Class Five.
"The government is not where it was two years go so that there is money where you just apply and it comes," stated Magoha.
The former chairman of the Kenya National Examinations Council (KNEC) however noted that the government would provide two face masks but urged parents to buy more.
"We want to get direction from the World Health Organization because every child back in school must wear a mask.
"The government is thinking of producing two masks which are washable per child but those of you who can afford to buy more masks for your children or grandchildren will do if you love them, don't start making noise when there are not there," noted Magoha.
The CS also noted that the government would provide water tanks to schools that have no access to water in order to adhere to the United Nations Educational, Scientific and Cultural Organization (UNESCO) guidelines on the reopening of schools.
"Where there are no water tanks and they are very few, the government shall ensure that those schools have water tanks.
"You have heard me encourage the MPs to do the same, if they do the same then it releases the money that the government has to help us ensure that each school has sanitisers," he explained.
On the issue of examination dates and the new timetabling, Magoha noted that he was still in consultation with various stakeholders to find a suitable solution for everyone.
"If you all say that schools can't open on September 1, as a messenger, I will give the report back to the owner of the process and tell him, 'your Excellency, the citizens have said this'," noted the CS.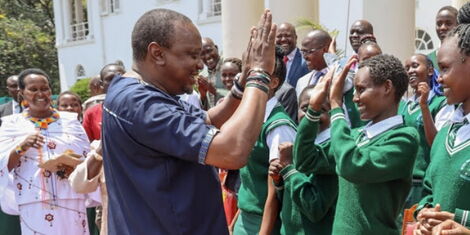 President Uhuru Kenyatta interacting with a student of Nyiro Girls' Secondary School from Baragoi (Samburu County) at State House, Nairobi on Friday, November 1, 2019
Related