Magoha Hints at Delay in Schools Reopening After Special Meeting [VIDEO]
Education Cabinet Secretary George Magoha has hinted at delays in reopening both secondary and primary schools, citing uncertainty.
Addressing the press after a Wednesday, morning meeting, the CS disclosed that reopening learning institutions could be pushed to 2021 depending on the extent of infections as the Covid-19 pandemic continues to ravage the country.
He further disclosed that reopening schools would be determined by education sector players' preparedness in enforcing the one-meter social distancing rule as directed by the Ministry of Health.
"It is likely to come in September and by the grace of God, perhaps, steeper down in January.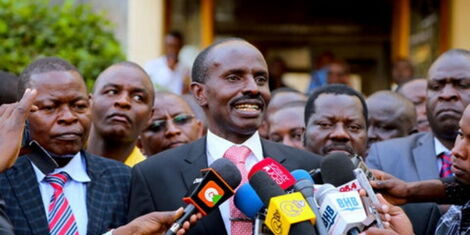 File image of KNUT Secretary-General Wilson Sossion (centre)
"Whatever is going to determine whether we open or not will depend on whether Social distancing will be achieved in Schools," stated Magoha
"Parents have been very firm that we don't open until we achieve stability which means until the curve is flattened," he added.
The meeting was attended by Teachers Service Commission CEO Nancy Macharia, Kenya National Union of Teachers (KNUT) Wilson Sossion, other sector players and the Education CS.
This comes just days after the CS advised President Uhuru Kenyatta against reopening schools ahead of the head of state's planned national address as the cessation of movement deadline nears.
The Head of State had directed him to prepare a new school calendar to be released by mid-August 2020 as schools were scheduled to reopen on September 1.
Magoha had earlier announced a raft of measures stipulated to guide the reopening of schools. He directed that the maximum number of learners in a classroom would be between 15 and 20 with a 1.5-metre social distance.
He further announced that teachers would be expected to report to their schools two weeks before the reopening date and that each learner to be provided with two masks and national exams may be taken in April 2021.
Sossion had earlier argued that the reopening plan would be unsuccessful if a deficit of 400,000 teachers was not covered for the new teacher-student ratio to be implemented where a class would be expected to hold a maximum of 20 students.
He was of the opinion that all teachers hired by school boards be absorbed by TSC to boost the numbers.
The union was also concerned with the safety of the teachers it represents urging the Teachers Service Commission (TSC) to suspend its delocalisation policy arguing that for safety to prevail, teachers should be posted in schools next to their places of residence.
Related