Magufuli's Recklessness Will Escalate Kenya's Covid-19 Cases – Analysts Warn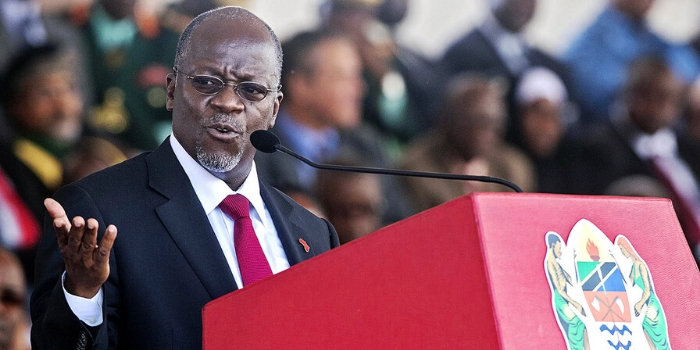 File image of President John Pombe Magufuli.
Tanzania President John Pombe Magufuli has been under fire for what has been termed as overlooking the safety of his citizens with measures viewed insufficient in curbing the spread of Coronavirus (Covid-19) in Tanzania and neighbouring countries.
As at Wednesday, April 22, Tanzania had recorded 284 cases with the death toll rising to 10. The news came at a time when Magufuli's only directives were banning gatherings, wearing masks, shutting down of schools and mass awareness.
However, churches still remain open with no cessation of movement in and out of Dar es Salaam, a region viewed as a hotspot. Analysts who spoke with TMZ.co.ke and Tanzanian residents have warned that the Tanzanian government's decision is a ticking bomb waiting to explode and may also affect the neighbouring East African Community countries.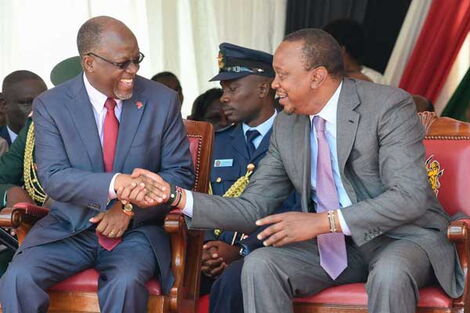 President Uhuru Kenyatta shares a light moment with Tanzanian President John Magufuli during the commissioning of Southern Bypass at Ngong Road-Lenana Interchange in Nairobi. Kenya is fuming at her neighbours over cows, chicken and fish, 2019.
DAILY NATION
"The cases have been reported in over 17 provinces, with Dar es Salaam to Ruvuma, Dodoma, Morogoro, Tabora included," a report by KTN News on Tuesday, April 21 detailed.
"My worry is that the disease is escalating, yet we see residents travel from Dar es Salaam to other regions. Restrictions should be imposed," a Tanzania businessman was quoted in the KTN News report.
Jane Thuo, a political analyst stated that Tanzania may be trying to implement a model that has been tried in, especially Sweden, where residents were allowed to roam free but under a few restrictions. However, she argued that in as much as it may be working elsewhere, replicating it in another region may not work as demographics and contexts are different.
"They are looking at a model practised elsewhere that seems to be working and has now backfired, that's why there is an increase in numbers. When you look at border issues like China and North Korea, they locked down their borders and definitely that's what will happen between Kenya and Tanzania.
"But I also think that these measures are as effective as how the government through the police are manning borders. Are they disciplined?" Thuo argued.
Diplomatic Tiff?
According to her, Magufuli was following in the footsteps of the US President Donald Trump, who disregarded earlier warnings only to play blame games. This may, in turn, affect Kenya and Tanzania's relationship, which has always hung on a loose thread, she argues.
"He will soon start blaming everyone, saying this and that Wuhan Flu, like Trump. People in power do not want to take responsibility. Officially Tanzanians will be stopped from coming to Kenya and our past relationships have been distant. This will raise some diplomatic sparks," she warned.
On the other hand, the University of Nairobi don Herman Manyora differed with Thuo on diplomatic relations being affected but insisted that Kenyans had already proven to be reckless. Coupled with Magufuli's approach, Kenya would soon witness an upsurge in cases, he argues.
"As much as Kenya has always borne the burden of neighbouring countries, like in the case of polio vaccination, Kenya has always done her part but Somali has been quite poor at that and some of the cases in Kenya have come from Somalia, Kenyans are also reckless.  They should be manning panya routes and reporting cases,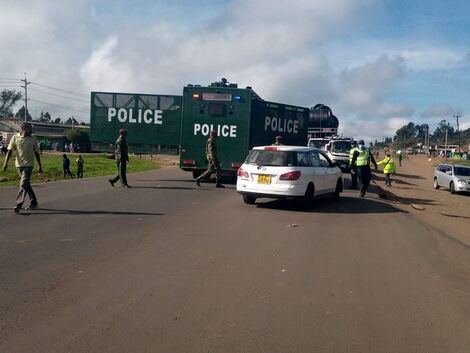 Police set up roadblocks isolating the Nairobi Metropolitan Area on April 7, 2020.
"We saw how they watch as those in quarantine escape then engage with them freely. So if Tanzania becomes reckless, we Kenyans will suffer because of our own recklessness. There won't be any strain on our relationship with them because they will put up the measures such as ours, in travel restriction and city lockdowns," Manyora opined.
Government Spokesperson Cyrus Oguna also informed TMZ,co.ke that the borders were safe and well manned. However, it would take more than that to ensure that the country was safe.
"We also need the citizens to be watchful and report any cases as there are panya routes that we cannot block.
"The East African countries engage in constant discussions on various ways that can be approached on how we can all protect ourselves. The relations are still and will always be strong," Oguna explained.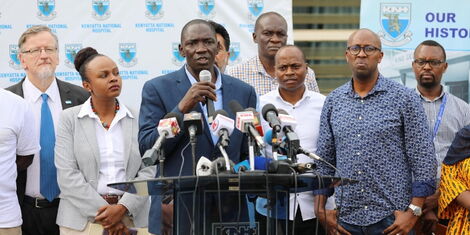 Government Spokesman Cyrus Oguna addresses the media at Kenyatta National Hospital on Saturday, March 14, 2020