Man Asks for Death Penalty After Robbing KDF Officer [VIDEO]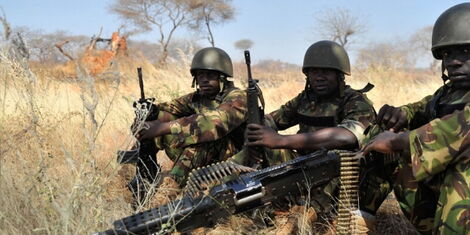 A court in Mombasa came to a standstill after a middle-aged man pleaded guilty to violently robbing a Kenya Defence Forces officer.
The suspect's charges were read at the Mombasa Law Courts on Wednesday morning, May 27, after he was accused of using a knife to rob the military man.
He was charged with robbery with violence, and accused of stealing the officer's wallet which had his KDF Identification card.
The suspect (in red) appearing before a judge at the Mombasa Law Courts on Wednesday, May 27, 2020
FACEBOOK
The suspect also got away with the officer's Infinix phone, together with cash amounting to Ksh 33,000.
He also threatened to murder the KDF officer.
"The law states that you can be jailed for life or be sentenced to death. So think carefully about the decision you will make," the judge read.
The suspect stated that he was ready to face either the death penalty or life imprisonment after pleading guilty.
"I plead guilty. All the aforementioned are true," he acknowledged as the court went silent.
Upon being asked repeatedly whether he had understood his charges, the suspect nodded in agreement and the court was adjourned.
The death penalty has not been practiced in Kenya for over 30 years and the suspect may be jailed for life as an alternative sentence.
On December 14, 2017, the Supreme Court of Kenya declared the mandatory death penalty unconstitutional. This landmark decision put an end to several years of uncertainty which heightened steps towards having it abolished.
Video: Daily Nation
Related