Man Hospitalised After Nominated MCA Attacks Him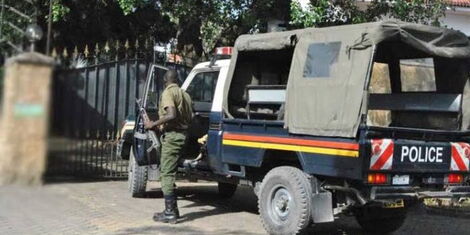 A man is fighting for his life at the JM Level Four Hospital in Ol Kalou after he was allegedly attacked by an MCA.
The man, Peter Mburu, is claimed to have been roughed up by nominated MCA Kariuki Ngaruiya and his sons in what is believed to be a land row.
Mburu's father, Martin Giathi, told journalists that he was beaten up on allegations that he wanted to steal items from the disputed property.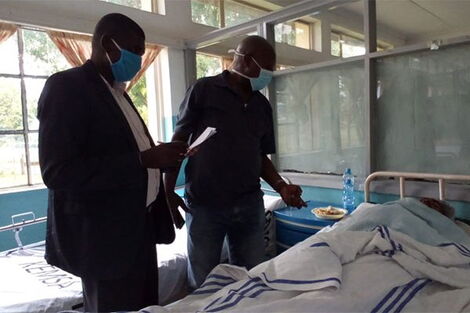 Investigators questioning Peter Mburu on Saturday, May 16 at the Olkalou Hospital
Giathi, however, narrated that his son had been sent by an uncle who allegedly owned the plot, to take some photos of the dilapidated building.
"My son was beaten around 50-100 meters from the plot which belongs to my brother. My brother talked to my son so that he would be checking up on the plot because he lives in Olakalou.
"In the morning, when my son and the MCA met, he started beating him with a hammer. He has a broken hand, he is bleeding from the nose and one of his eyes is damaged," Giathi narrated.
He added that doctors have referred his son to Nakuru Referral Hospital where more tests would be conducted.
A witness who was at the scene also stated that the MCA hit the victim on his head before his sons also joined in.
Ngaruiya, on his part, denied claims of the alleged attack. He stated that he had received a call from a friend who alleged that a thief had been attacked by a mob as he attempted to steal from the building, which he claimed was his.
"I have not pursued the matter to establish who the victim is," the MCA claimed.
Nyandarua County Commander stated that investigations into the matter had been launched.
Watch a video of Mburu while receiving treatment in hospital courtesy of Daily Nation;
Related