Man Throws Mother Into His Burning House & Locks Door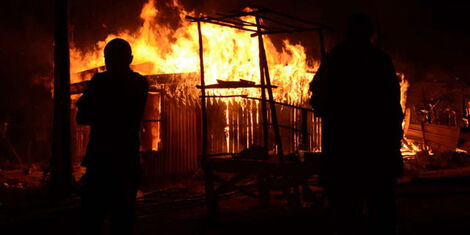 A village in Nyamira County is reeling from shock after a man pushed his mother into a burning house on Monday, May 25, after a squabble.
According to a report by Citizen TV, the incident began after the man, Jared Masanya, 30, set his house ablaze together with that of his brother, Simon Ogeka, in Magwero village.
The issue caught the attention of villagers who arrived at the scene and attempted to put out the fire.
Masanya's mother, Teresia Kemuma, was initially part of the crowd and the man was allegedly angered by her actions.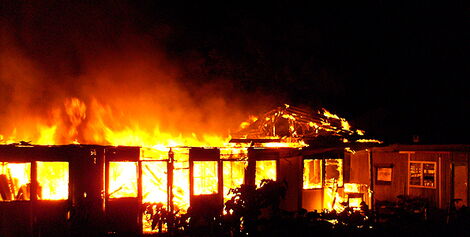 A building on fire in Kenya
He reportedly grabbed his mother, forcefully tossed her inside the burning house and locked the door from the outside leading to Kemuma's death.
"He grabbed her and threw her inside the house which was on fire and locked the door from outside," Citizen TV quoted a police report.
Manyasa then vanished from the scene of the incident. Police have launched a manhunt for him.
Kemuma's body was taken to Gucha Private Hospital mortuary where a post-mortem is expected to be conducted.
Cases of domestic violence have been on the rise in Kenya since the Covid-19 pandemic hit Kenya with some turning fatal.
In January, a man, Mwanza Kaloki, was under the Machakos police radar for hacking his mother and niece to death after allegedly quarreling over a meal of eggs and Ugali.
"They had deep cuts on the head. My daughter was still breathing when I arrived. She was lying in my house's corridor. I carried her and took her outside the house and laid her in our compound," stated Kaloki's brother Alfred Mbithi.
In an earlier address, Health Chief Administration Secretary, Mercy Mwangagi, warned domestic violence perpetrators that the state was turning its gaze on them.
"We want to remind everyone that the law has not been suspended and that it will catch up with those who mete violence on others during this period," Mwangangi warned.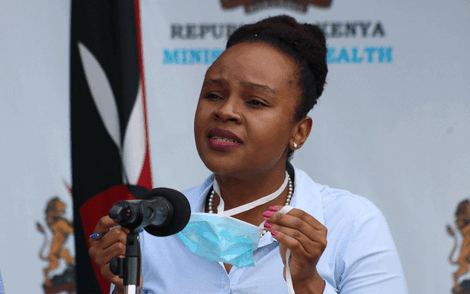 Health CAS Mercy Mwangangi during a press briefing outside Afya House, April 2020
Related