Maraga's Ksh 347M Project Abandoned
A Ksh347 million completed project unveiled by former Chief Justice David Maraga has been abandoned under unclear and controversial circumstances.
The three-storey building which was to house several courts in Nakuru, Maraga's backyard, has remained idle for over six months since December 2020.
Maraga, accompanied by Nakuru Governor Lee Kinyanjui, officially opened the 20-room building on December 4, 2020.
Law Society of Kenya (LSK) Council Member Kipkoech Ngetich lamented that Maraga was entangled in a war with the Executive and focused on launching projects without an open plan.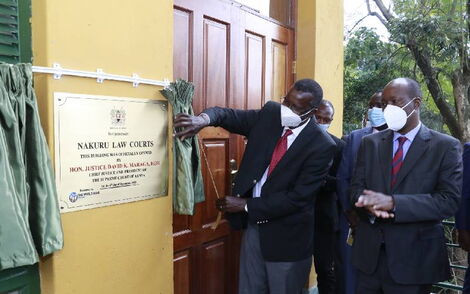 Former Chief Justice David Maraga unveils the Law Courts building in Nakuru in December 2020
FILE
"Why would he open a court without necessary infrastructure?" Ngetich argued with other lawyers adding that the project consumed public coffers which were going to waste.
They further asked current CJ Martha Koome to expedite the provision of infrastructure and access to the courts.
While opening the courts, Maraga stated that he would retire in Nakuru where he practised law for over 25 years before he became a judge.
He added that he managed to set up over 43 High Court stations in 42 counties during his tenure. However, the Judiciary still faced a backlog of cases, a challenge passed on to the new regime under Martha Koome.
Maraga also openly differed and fought with the Executive who he accused of cutting off the Judiciary's funds and disregarding the constitution.
"Disregarding court orders by the President is part of the pattern by the executive. The Executive routinely disregards court orders," Maraga lamented in June 2020 while serving as CJ.
Speaking on KTN News on Wednesday, June 9, he further reprimanded President Uhuru Kenyatta for failing to appoint six judges out of the 41 recommended by the Judicial Service Commission (JSC).
"You are literally ruining the careers of these judges and totally ruining their lives and that of their families. That is so serious that it cannot be done so casually as it has been done. That is extremely bad," Maraga complained.
Koome, his successor, however, stated that he would work towards uniting the Executive and the Judiciary. The CJ also urged Uhuru to appoint the six judges and warned him from undermining the Judiciary.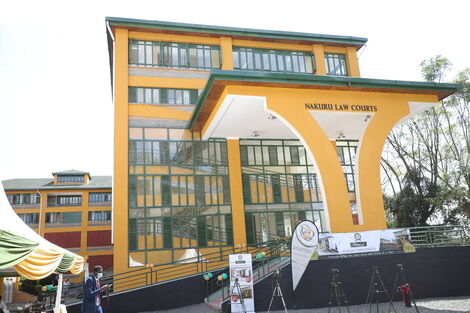 Ksh347 million Nakuru Law Courts
Related