Matatu Operators Set to Hike Fares
Matatu operators countrywide are contemplating hiking fares after the Energy and Petroleum Regulatory Authority (EPRA) increased fuel prices on Sunday, March 14.
Already, PSV operators in Nyahururu, Laikipia, said that they were discussing the best way to cushion themselves from the fuel hike even as they mull on how to protect commuters from a hike in fares.
Operators of 4NTE and Nuclear Investment Limited which ply Nairobi, Nakuru, Nyeri, Nyandarua and Samburu Counties urged the government to reduce the fuel prices or revise the Covid-19 restrictions to allow them to maximise on the number of passengers they can carry.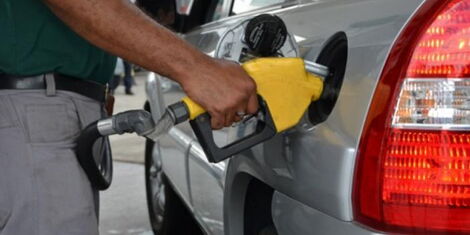 File image of a fuel attendant at work at a petrol station.
FILE
4NTE Sacco chairperson Wilfred Kimotho said that carrying passengers at half capacity coupled with the new petrol prices would jeopardise their service delivery.
Most Nairobi Saccos and operators were cagey on whether they are considering revising the fares saying that they will make an informed decision after assessing the developments in the coming days.
Ride-hailing taxis, however, warned that they were considering taking industrial action that would paralyse transport services in the county.
In Mombasa, matatu touts and drivers threatened to leave their jobs and shift to other trades as the conditions in the industry become 'unsustainable'.
"This job is getting difficult day by day and I'd rather leave. Our bosses demand income yet we ferry commuters at half-capacity. The President even declined to reduce curfew hours. Most of us close shop at 9 pm and by then we haven't even achieved our set target.
"The President even wants us to be arrested for carrying excess passengers, yet that's where we get our own money before giving the rest to our bosses," a PSV driver in Mombasa said.
Central Organisation Trade Union (COTU) Secretary General Francis Atwoli was among the leaders who castigated EPRA urging President Uhuru to regulate the government agency. Atwoli stated that the fuel hike will lead to hoarding and an increase in prices of other commodities.
"The head of state should intervene by either issuing a fiat suspending some of the taxes and levies on fuel or by calling EPRA to order. He should call for the audit of the entire ecosystem around the energy sector and save Kenyans from cartels that have hijacked the energy sector in Kenya," the statement read.
EPRA raised Super Petrol, Diesel and Kerosene increases by Kshs 7.63, Kshs 5.75 and Kshs 5.41 per litre respectively. The new fuel prices in Nairobi will trade at, Super Petrol Kshs.122.81, Diesel at Kshs.107.66 and Kerosene at Kshs.97.85 between Monday, March 15, to Sunday, April 14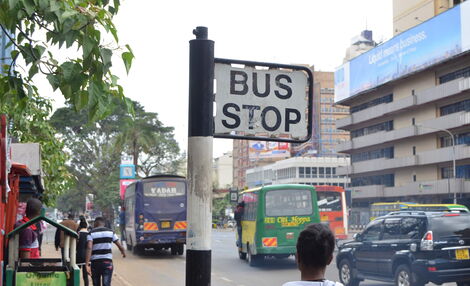 Matatu Bus Stop Sign at GPO Stage, Along Kenyatta Avenue in Nairobi. Monday, October 21, 2019
Related