Mathare Youth Barricade Juja Road in Protest [VIDEO]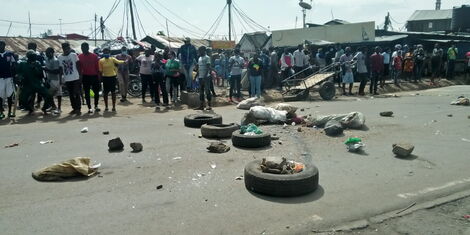 Youth in Mathare on Saturday, August 22, barricaded Juja Road as they held protests in Nairobi.
The riots resulted to traffic disruption on the road which was meant to act as an alternative route as a section of Thika Road was closed due to ongoing construction.
There were conflicting reports over the cause of the protests with some indicating that the youth were decrying delayed payment under the government's Kazi Mtaani initiative.
Watch the video of the protest below:
Others stated that the riots were due to protestors being denied rights to sell illegal alcohol 'chang'aa' following a recent crackdown in the area.
In the melee, it was reported that the rowdy youth robbed motorists who found themselves on the road.
Motorists were advised to use different routes to avoid experiencing losses in the protests.
Earlier on, the Kenya National Highway Authority (KeNHA) was forced to act and manage a traffic snarl-up along Thika Road after motorists spent over three hours stuck on the superhighway.
At the same time, Juja road which is one of the alternative routes and was expected to ease pressure on the road, was blocked by the protestors.
In response to uproar on social media of the traffic menace along Thika Road, KeNHA reopened service lanes at the Garden City Footbridge to allow motorists to access the road and ease up traffic.
"Traffic flow along the Thika Superhighway is gradually opening up after the reopening of the service lanes on-site at the Garden City Footbridge," KENHA tweeted on Saturday, August 22.
In regards to the Kazi Mtaani program, youth from Mukuru slums had earlier engaged police over non-payment in May, 2020.
They engaged in running battles with the police who were forced to clear rocks that had been used to block the road.
"We were told that the money was disbursed but I have not received a penny yet. I have needs and I've been locked out of my house by the landlord. I have nowhere to go," lamented one of the workers.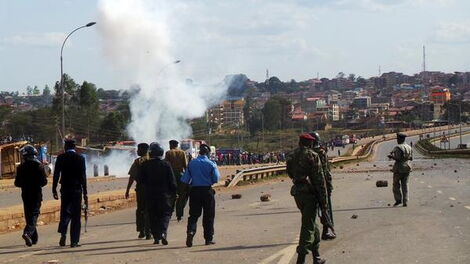 Anti-riot officers pictured along Thika Superhighway, Githurai area during a mass protest on September 9, 2014
Related