Matiang'i Goes After Gun Owners in New Crack Down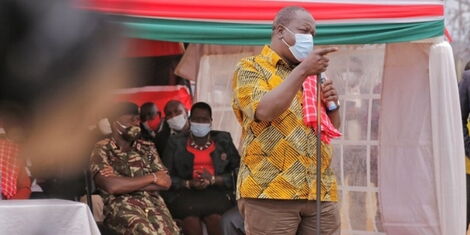 FILE
Interior CS Fred Matiang'i launched a cleanup process targeting illegal gun owners while speaking at an African Union summit on Tuesday, September 8.
The CS detailed his plan after launching a ceremony for the African Union amnesty month on voluntary surrender of illicit firearms.
Matiang'i affirmed that he was restructuring the country's firearms licensing regime and urged illegal riffle holders to surrender their weapons.
"Our responsibility first is to the Kenyan people and we shall ensure that we protect them at all cost," the CS declared.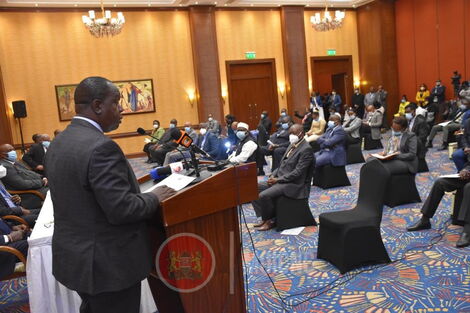 Interior CS Fred Matiang'i addresses delegates at an AU summit in Nairobi on Tuesday, September 8, 2020
FILE
The Directorate of Criminal Investigation is grappling with a number of murder cases, with the latest being the death of businessman Kelvin Omwenga who was murdered in Kilimani, Nairobi.
DCI George Kinoti wrote to the Firearm Licensing Board to ascertain whether three guns involved in the case were registered.
In July, the National Gun Owners Association, NGAO-Kenya, called for the formulation of a policy to regulate the number of guns licensed firearm owners can have.
While addressing the summit, Matiang'i further warned AU states against trafficking guns into Kenya and vowed that the government would be more ruthless to suspected foreign nations.
"Kenya will no longer make concessions that hamper the war against the proliferation of illegal firearms in the region. Let us be truthful to each other, instead of hiding in the blanket of diplomacy.
"We have done a lot of public relations on this thing of the proliferation of illegal firearms for a long time. This notion of Kenya being called upon to play big brother in order to make certain concessions will not be entertained anymore," Matiang'i vowed.
In March 2020, Matiangi stated that authorities had seized 6,000 firearms, two months after destroying another haul of 8,000.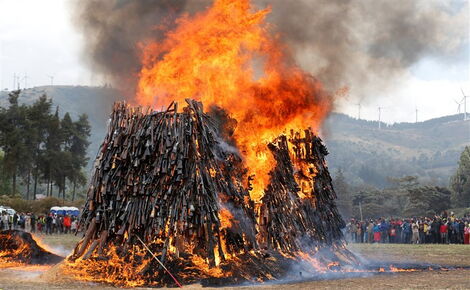 File image of firearms being burned in Kenya
Related