Meet Susan Kihika's Billionaire Ex-husband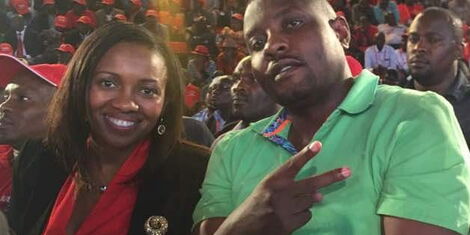 Nakuru Senator Susan Kihika, is a woman who has staked her claim in the list of Kenya's most outspoken politicians, having gone head to head with some of the country's biggest politicians without as much as a flinch.
However, her ex-husband Sam Kamau Mburu, is one of the few billionaire businessmen who has managed the herculean task of flying under the radar.
Mburu and Kihika hit it off during the colourful Jubilee campaigns of 2012-2013 when the Senator returned to Kenya from a 20-year hiatus in the USA.
Friendship soon blossomed into love and the two became inseparable after the General Elections, leading to the highly-publicised divorce between Mburu and his first wife Beatrice Wanjiku.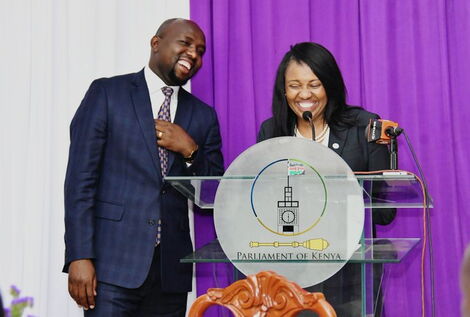 Elgeyo Marakwet Senator Kipchumba Murkomen and Nakuru Senator Susan Kihika
FILE
During the heated divorce proceedings, Wanjiku staked a claim to Mburu's empire, claiming that she met him when he was still trying to find his way in life.
"During the month of November 2002, when you were working as a delivery boy for One Touch Cargo Limited, and our client was a secretary to the managing director at the National Water Conservation Corporation, you contracted marriage under the Agikuyu customary law," reads the affidavit signed and presented by Wanjiku.
The suit drawn by Morris Njage & Company Advocates on her behalf lists Mburu's assets, including Landmark Freight Services, which has two branches in China and rakes in profits estimated at Ksh10 million monthly.
She went on to list several apartments strewn out across Nairobi, Kajiado and Nakuru as well as a string of high-end luxury cars.
On his part, the successful businessman argued that he only earned half a million shillings a month, and could therefore not raise the Ksh767,000 allowance his ex-wife was demanding.
The soft-spoken businessman's roots can be traced to Solai in Nakuru County, where his parents operated a charcoal burning business.
The court awarded joint custody of their two children and a Ksh597,000 monthly maintenance allowance, including Ksh140,000 for food.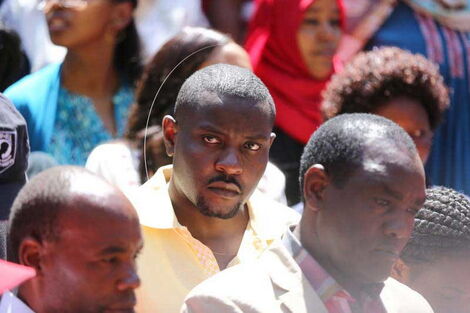 Nakuru Senator Susan Kihika's Ex-husband Samuel Mburu (Centre).
FILE
Mburu made the headlines once again in 2018 (the same year in which Kihika filed for a divorce), when he was arrested alongside 17 others over a Ksh64 Million fraud case on December 29.
He was accused of evading taxes weeks after President Uhuru Kenyatta warned corporations engaging in legal activities that their days were numbered.
The Office of the Director of Public Prosecutions (ODPP) via Director Noordin Haji, approved charges against them over tax evasion allegations by Gendipe and Rupai Enterprises which cost the state nearly Ksh64 Million in revenue.
In a statement, Haji noted that the two organisations and their clearing agent Landmark Freight Services Limited (run by the brothers) with the help of custom and KEBS officers concealed imported goods with the aim of evading taxes and reduced the amount of penalty payable for goods arriving without certification of conformity from the country or origin from the required 15% of the total customs value to 0.5%.
The marital crisis between the wheeler-dealer and the Senator is said to have climaxed erupted in early July 2018, when Mburu in trouble with the authorities. This allegedly drove him into depression and he turned to heavy drinking leading to marital problems and eventually their divorce and end to their 5-year union.
Following his separation from Kihika, the Nakuru Senator has kept her personal life away from the limelight.
Away from work, Kihika is an outdoor person who loves nature and activities like rock climbing, hiking, boating and camping.
The mother of two girls (not sired by Mburu), Tiffany, 22, and Ashley, 20, says balancing the roles of mother and politician is akin to sitting on a knife's edge.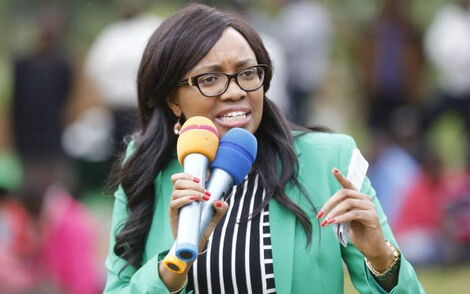 Nakuru Senator Susan Kihika.
FILE