Mike Sonko Takes a Shot at Rapping [VIDEO]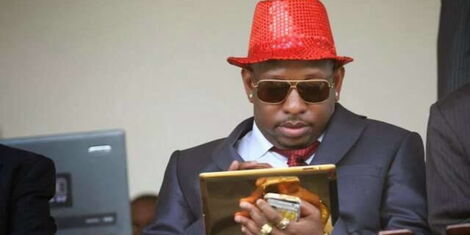 FACEBOOK
Nairobi Governor Mike Sonko ttried his hand at rapping after meeting popular Gengetone group Mbogi Genje while promising to support the artists.
Sonko hosted the group from Umoja, Eastlands in his office on Saturday, September 5 with a video of him rapping emerging on Monday.
The Governor posed for photos with Mbogi Genje after having sampling some of their music that is heavy laden with hardcore sheng lingua franca.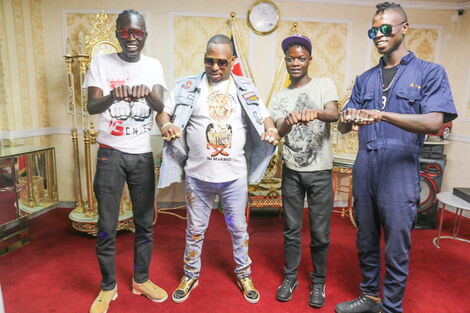 Nairobi Governor Mike Sonko (second from left) and popular 'gengetone' group Mbogi Genje posing for a photo on Saturday, September 5.
Sonko then had a photo of him taken with the signature Mbogi Genje pose before proceeding to rap as the group cheered him on.
In the short rap verse, the former Nairobi Senator appeared to hit out at some of his critics especially ones who have been fighting him in Nairobi county.
The Governor in his usual philanthropic mood promised to pay for production of Mbogi Genje's 10 unreleased songs.
He also vowed to get modern equipment to help them record their songs and build a fully stocked studio for the group to make it easier for them to release new music.
The group was also promised to land events through connections from the Governor to help them during the Covid-19 pandemic that has hit the entertainment industry hard.
"In keeping with my commitment to support our artists and nurture talent in Nairobi especially during the hard times occasioned by the Covid-19 pandemic, today I hosted the Mbogi Genje music group from Umoja.
"To ensure sustainability, I will facilitate them to establish an operating base in their neighbourhood, while utilizing my networks to help them secure corporate and private gigs where they will be earning," read part of Sonko's statement.
It is not the first time Sonko is trying out his shot at rapping as back in October 2019 he uploaded a video wearing a red and black tracksuit, a baseball cap and sunglasses where he comes out of a building rapping.
In April 2019 while hosting Gramps Morgan from reggae group Morgan Heritage at his office, Sonko took the opportunity to showcase his rapping skills.
Watch Video Below:
Related