Motorist Captured Fighting With Police [VIDEO]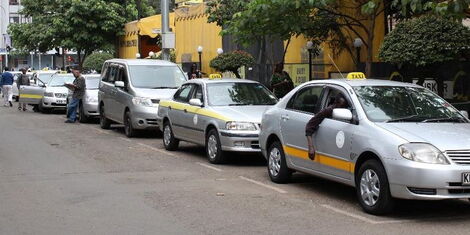 A police officer was captured in a physical confrontation with a cab driver on the night of Monday, July 13, 2020.
The driver was dropping off a female client when he encountered a police officer in the neighbourhood.
The officer interrogated the driver who availed his letter allowing him to work past curfew hours.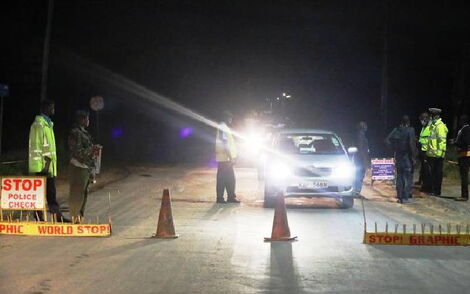 A police roadblock at Chania, border of Murang'a and Kiambu Counties
As he handed the letter, the police stretched his hand to open the door and a scuffle ensued.
During the struggle, the door lock broke and triggered the driver into an angry rant.
"Leave my car alone, why are you spoiling my vehicle? I am recording you," the motorist stated.
On learning that he was being captured on camera, the officer tried to grab the phone, further aggravating the situation.
"Kill me if you want, you did not help me buy the car so why have you spoiled it?' he continued the angry outburst.
Upon sensing the dangers of arguing with an armed security official, he started hooting to alert the neighbours.
"You must pay for the damages. The repair costs Ksh 40,000, even if it means going to court," he shouted as the client tried to calm him down.
Other than the driver's recording, the scuffle was also captured by a CCTV camera mounted at the client's residence.
When the fight escalated, she ran inside the apartment to call for help and came back with a few of her neighbours.
By the time she returned with help, the police officer had started walking away into the darkness as the driver followed closely.
Police IG Hillary Mutyambai spoke about the rising cases of police and drivers' confrontation and condemned violence as an uncivilised method of solving problems.
"This is not about police brutality but actions by individual officers. We have over 100,000 officers and thus you cannot say the entire service is brutal.
"Police always take responsibility for their actions. When they use excessive force, we have oversight bodies that investigate and action taken against those found culpable," he stated on Monday.
Two police officers are nursing injuries after trying to resue a miraa driver from an angry mob at Nyangati area on the Mwea-Embu highway in Kirinyaga County on Monday, July 13 after a road accident.
The melee ensued after a speeding Miraa vehicle, a Toyota Probox model hit a pedestrian killing him on the spot.
Following the accident, a mob comprised mainly of boda boda riders, attacked the driver baying for his blood as police officers swung into action to save the man.
However, the irate mob could hear none of it as they also descended on the two police officers who tried to take the miraa driver away from the scene.
Related