MP Jaquar Hints at Govt Involvement in Gikomba Fire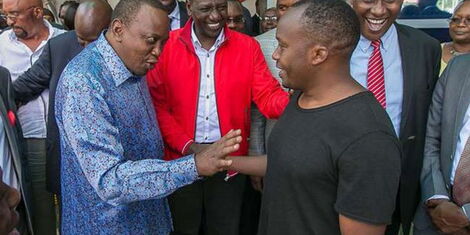 Starehe Member of Parliament Charles Jaguar has accused the government of a sinister motive following the demotion of shops at Gikomba market. He has insinuated that the government could be behind the fire that razed Gikomba market on June 25, 2020.
In a statement on his Twitter page on Saturday, June 27, Jaguar stated that the National Youth Service recruits were at the market demolishing stalls that traders had reconstructed after the fire.
"NYS recruits are in Gikomba right now. They're demolishing stalls that traders had reconstructed after a mysterious fire razed them on Thursday morning," he stated.
Jaguar also alleged that GSU officers were also at the site, protecting the recruits that were demolishing the stalls.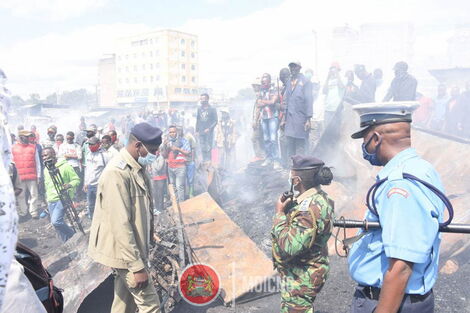 Police Officers pictured at Gikomba Market on June 25, 2020. President Uhuru Kenyatta has vowed to unmasks the suspected arsonists behind the frequent fires at the market.
"Is this exercise a sign that the government was involved in the recent fire? the MP questioned.
While condemning the exercise, the Lawmaker stated that the government was acting in bad faith against people who had suffered from multiple fire outbreaks in the area.
He added that Interior PS Karanja Kibicho and NMS Director-General Mohammed Badi had promised Ksh10,000 compensation for each trader who had lost property during the inferno.
However, Jaguar claimed, the duo did not mention anything about the demolition of reconstructed stalls.
"I ask for an immediate halt to this exercise. NYS recruits should go home.
"Any security officer present in Gikomba should be there to guard the reconstructed stalls and other properties owned by traders. The govt exists to protect property. It should not oversee its destruction," he concluded.
Several structures at the cereals and mitumba sections of the market were destroyed by the Thursday inferno.
Reports indicated that the fire began at 2 am in the night.
'No casualties were reported but property of unknown value was destroyed.
Several fire incidences have been reported over the years in the market, sometimes leading injuries and fatalities.
On Thursday, PS Kibicho revealed that President Uhuru Kenyatta had launched a special task force to hunt down individuals who are said to have predicted the latest Gikomba fire.
"We do not believe these fires are natural. We believe that there are some people who think that by displacing the business people here they will have an opportunity to develop this land on selfish grounds," PS Kibicho stated.
Interior PS Karanja Kibicho addresses a summit in Mombasa on January 13, 2020
Related