Nairobi Half Life Star Resurfaces After Struggle With Drug Addiction [VIDEO]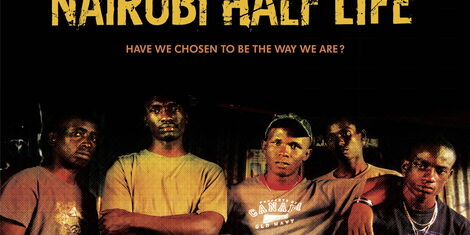 Footage of Charles Anthony Matathia, the gifted writer behind Nairobi Half Life which is arguably one of Kenya's biggest films, surfaced on Tuesday, May 26.
Popularly known as Potash, the scriptwriter narrated a gripping tale of his battle with drug addiction and his desire to find his way back to his passion, revealing that he has been working on new content.
"I want to go back to where I started," he stated.
"The first phase of my work until the age of 33 is represented through key projects. One is a short film in sheng about slum upgrading programs in Mathare valley,
"The second is a feature film also in the same language, sheng, based in Nairobi. It's called Nairobi Half Life," he narrated.
The Starehe Boys alumnus goes on to detail his life and his tenure as an editorial assistant at Kwani Trust where he worked under Kenneth Binyavanga Wainana, who ended up as one of his teachers and mentors.
However, the success of Nairobi Half Life, which bagged the most awards at Africa Magic Viewers Choice Awards 2014, came with its own bag of temptation that saw the gifted writer turn to drugs.
Read Also:
On February 19, 2020, footage of Potash seemingly begging in the streets of Nairobi while dressed like a homeless person hit various social media platforms, resulting in a public outcry, with most Kenyans asking for a way to get in touch with him.
"I retired at the age of 33 to smoke cannabis in Wangige Market.
"Last year [2019], at the age of 40, I decided to make a comeback and put together my writing. What I want to do is to go back where I started as a blogger," he revealed.
He goes on to reveal that he had a successful website – The Black Campaign, back in 2011 where he hosted a blog titled A Kenyan Urban Narrative.
The blog was plotted around a young Kenyan man struggling to find a way to afford his next drink.
"I want to develop new content and characters based around the key themes of juvenile delinquency, coalition, consensus, conflict and cooperation in society," he revealed.
"By the year 2023, they will be published as a collection with a short story," he added.
The 41-year-old has set his sights on staging his comeback by simply going back to the basics, starting with his personal blog.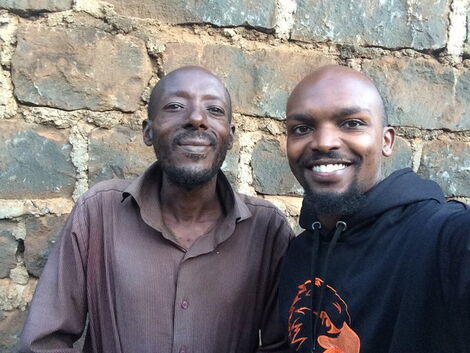 Nairobi Half Life script writer, Potash Charles Matathia (Left) poses with Mojo Africa's Marvin Gakunyi on February 20, 2020.
TWITTER
Related