Nairobi's Notorious Parking 'Boys' Minting Millions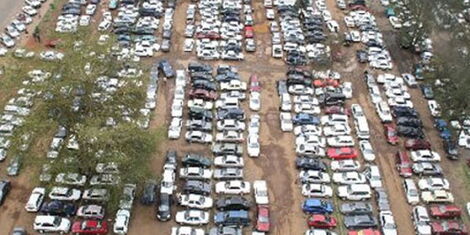 FILE
When driving within Nairobi's CBD, you'll see them the moment you slow down and toggle your indicator lever to signal intention to park your car.
Alert as gazelles in the savannah, these parking lot 'boys' always seem to pop up out of thin air and usher you to a parking lot that you had already spotted in the first place.
However, trying to bypass these CBD parking cartels by ignoring them often ends up costing you more than the Ksh100 or Ksh200 they demand, depending on the specific street.
Hundreds of motorists have reported finding their vehicles vandalized, some with missing wheel caps, while others ended up with side mirrors without its outer casing.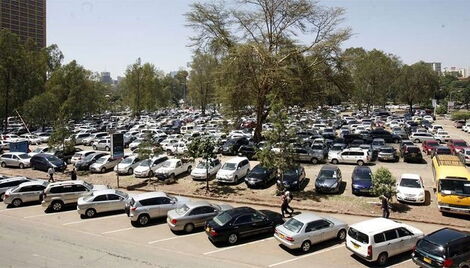 A parking lot in Nairobi.
FILE
Speaking to TMZ.co.ke, Tom Musau (not his real name) a motorist who works in the CBD revealed that he prefers parting with Ksh200 which he hands over to the 'boys'.
"It's just safer and these guys are known to have some really irritating tactics to teach any defiant motorists a lesson. During my first week in the city, I used to make my payments directly to county through the e-jiji pay platform. However, I always walked back to 2 flat tyres every evening and I soon caught on to the recommended protocol," he explained.
The bold parking gangs are said to have divided up the city streets into zones controlled by different 'bosses'.
Work begins as early as 4 am and never stops. Pre-Covid-19, night time used to be good for business as revellers filled the city streets as they flooded to the countless 'watering holes' mostly located along Moi Avenue.
In a recent interview, a parking 'boy' who preferred anonymity revealed that he has managed to educate his 2 children using proceeds from the informal parking system.
Pocketing an average of Ksh2,000 during slow days on a single lane translates to hundreds of thousands if one factors in all the major streets in the city.
Some have confessed to making at least Ksh350,000 a month on a single street, which they then share out with people they chose to safeguard for obvious reasons.
In September 2019, Nairobi Governor Mike Sonko announced that he had formed a special unit to deal with the parking boys, who he said were known to block parking slots within the CBD.
He went as far as sharing a whatsapp number through which motorists could report the notorious parking gangs.
"Ukipata parking Boy blocking parking bay with motorbike ndivo akuuzie hiyo parking space kindly WhatsApp me via 0722886600 the street name. I have a special team to deal with those wakoras," he shared at the time.
He went on to point out that paying the gangs was illegal as it denied the county revenue.
However, a year later and nothing has changed in the CBD as the 'boys' operate with a bold calmness that almost makes one think they are invincible.
Just like any other gang, they guard their turf from any intruders, with new workers reportedly having to go through a nameless and faceless chairman for vetting.
Several journalists have gone undercover in a bid to unmask the real bosses, but the face behind the money-minting venture is yet to be unmasked.
Nairobi Governor Mike Sonko chairs a meeting at his office on July 17, 2020
Related