No Undergarments as Govt Outlines Protocols for Mitumba Traders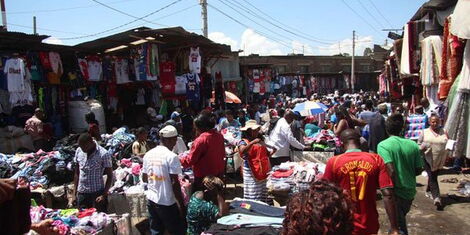 The government through the Ministry of Trade, Industrialisation and Enterprise on Friday, August 14, released protocols for mitumba (second-hand clothes) traders to resume operations.
The guidelines covered the importation of second-hand items as well as the conduct of wholesalers, retailers and buyers in light of the Covid-19 pandemic.
"This protocol provides best practices on the importation and sale of used textiles and used shoes and how the supply chain operators conduct their operations while ensuring the health and safety of the sellers, importers, wholesalers and buyers from the risk of spread of Covid-19 virus," the Ministry stated.
In the guidelines, used nightwear including pajamas, nightdresses, nightgowns and patient hospital wear: used bath towels and undergarments including women's briefs, men's briefs, brassieres, camisoles, socks, stockings, petticoat, sandals, slippers and indoor footwear are prohibited from import.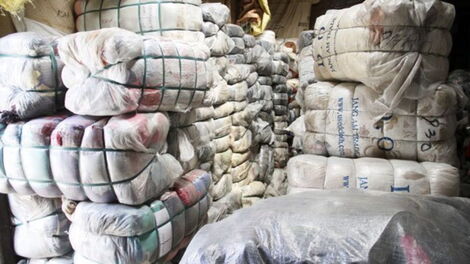 Unopened bales of second-hand clothes.
Traders who intend to import will have their wares subject to inspection and certification by the Kenya Bureau of Standards (KEBS) under the Pre-export Verification of conformity to Standards (PVoC) requirements at the country of origin.
Additionally, all importers and suppliers of used textiles and used shoes shall notify KEBS in writing of their intention to import used textiles and used shoes.
They shall have to make a declaration of country of origin and each consignment shall be accompanied by a fumigation Certificate or Treatment Certificate issued by a licensed service provider in the country of origin.
"Each consignment shall be accompanied by a Health Certificate issued by a public health authority in the country where the items have been collected or sourced (Country of Origin of the product) and must be packed in clear transparent and waterproof material and shall have a maximum weight of 30 Kgs," the Ministry required.
Traders are mandated to have a Certificate of Conformity (COC) issued by a pre-export verification of conformity inspection service provider approved by the Kenya Bureau of Standards (KEBS).
Mitumba wholesalers are required to fumigate their stores and its environs every day at the closure of the business as well as maintain an inventory of each consignment and provide details of buyers and their contacts including physical addresses, mobile numbers and quantities sold to be made available to enforcement agencies whenever requested.
Additionally, they are mandated to wear appropriate masks or facial covering at all times while at the workplace and sanitize luggage carts used by customers after every use.
They are required to provide easily accessible handwashing stations with soap and running water or sanitization bottles for employees and customers as well as adequately aerate premises through open doors, windows and cleaned ventilators and provide for separate receptacles for storing used PPEs such as used masks and gloves before collection for disposal.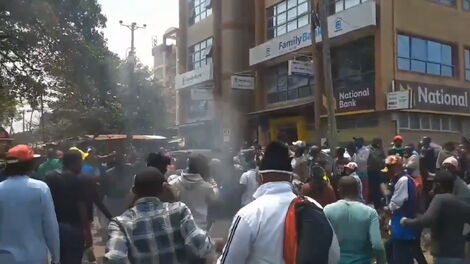 Mitumba traders protesting the government's failure to lift the ban on second-hand clothes on Wednesday, August 12.
The Ministry advised buyers to purchase only from licensed business premises and obtain a receipt of each transaction.
"Buyers should obtain the physical address and mobile phone details of the seller, use hot water, soap and disinfectant to clean purchased items before use and to report to authorities including KEBS in the event of encountering a mitumba operator selling prohibited second-hand clothes and shoes," the Trade Ministry added.
On Wednesday, August 12 mitumba traders protesting in the Gikomba market, Nairobi over what they termed as the Government dragging its feet on coming up with protocols to allow the importation of second-hand clothes.
The importation of mitumba was banned as a way to curb the spread of Covid-19 in the country after it had vastly affected countries where the goods are sourced from.
Related