NTV's Kennedy Murithi: How Kalonzo Ethnic Slur Boosted My Career [VIDEO]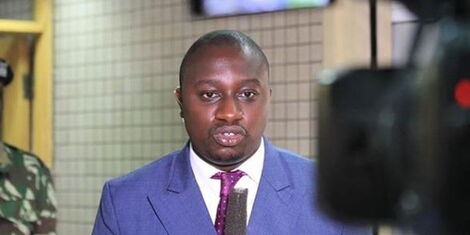 As a journalist, one will have many interactions with politicians with some falling under the unpleasant category.
For NTV's senior political reporter Kennedy Murithi, his 2014 interaction with Wiper leader Kalonzo Musyoka who shut him down with the infamous phrase "your name betrays you" was one that made him one of the recognisable names in journalism.
Six years after the ethnic slur by the former Vice-President, Murithi revealed how that exchange actually helped build his career.
Appearing on the Journalists Unheard YouTube series, the senior reporter stated that the incident helped him make great career moves.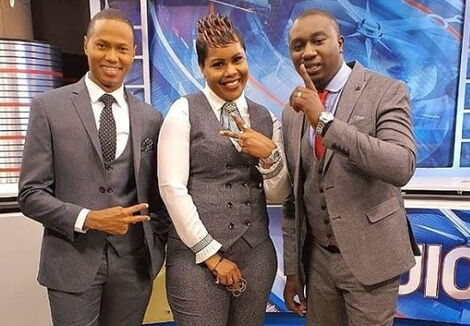 NTV Journalists from right: Kennedy Murithi, Jane Ngoiri and Salim Swaleh.
"At the time, I was a Nation Media Group reporter with QTV and after Kalonzo made the remarks, I saw a flurry of activity on Twitter. Everyone was talking about it. In fact on that day, I got 2,000 followers on the platform," he stated.
Murithi further narrated, "It elevated my career to some level. Today, I'd say it played a huge part in me having the job that I have today and in making the strides that I have made in my career."
After the incident, Kalonzo issued an apology adding that he felt the journalist had asked a misleading question.
"I in no way intended to neither demean the young man nor do I or would I harbor any animosity toward him.  I did have tea with Mureithi and duly apologised for any hurt my remark would have caused, indeed it was with a light touch but I wish to apologise to him, the entire journalistic fraternity and anybody else who might feel the comments were offensive," the Wiper leader stated in 2014.
The Masinde Muliro University Graduate further stated that it wasn't easy being a journalist adding there were many pressures in the industry.
"Being a senior political reporter doesn't just come while seated, one has to put in work and always going the extra mile that everyone is reluctant to cover. Journalism is my passion it is my DNA," he stated noting that political journalists were underappreciated.
In 2017, the seasoned reporter left the station to take up the position of  Communications Director in Tharaka Nithi County.
He later returned to NTV in 2018 to serve in his current role.
Aside from journalism, Muriithi revealed that he also has some side hustles including sourcing for rice from Mwea and delivering orders in Nairobi.
Related