Nyali MP Mohammed Ali Claps Back on Betrayal Claims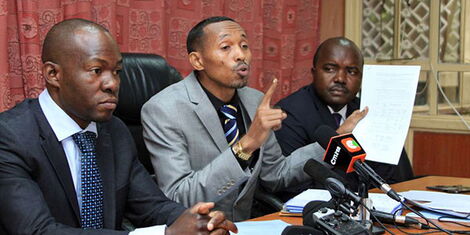 Nyali MP Mohamed Ali alias Moha Jicho Pevu on Thursday, May 14, engaged a number of Twitter users over development projects in his constituency.
The legislator had posted a video of a resident praising his projects in the constituency. The clip featured Kadzandani resident Abubakar Said who commended the MP for setting up a health centre, a police station, and improved roads in the area.
"The MP is very hardworking and now we are asking him to set up a school in this area for us because the nearest public school is a distance from here," Abubakar stated.
After posting the video to his one million followers, a section of Kenyans online took issue with misrepresentation over the situation on the ground.
Some questioned the MP's development projects in the area with some claiming their locations had been neglected.
A Twitter user, Chacha Collin Carson, stated that since he was elected, the MP had turned blind to the ills of the leaders and betrayed the people who had elected him.
"Jicho pevu uliingua bunge ukakua kipofu (you've become blind since you joined Parliament)," the user accused.
The Nyali MP responded, "Nisaidie na mkongojo basi. Wewe waona mbona husaidii (Help me see with a walking stick then!)
Nyali MP Mohammed Ali responding to claims by a section of Kenyans on Twitter on Thursday, May 14.
User Oredoh stated that his area had been neglected, "Mkomani hatuoni kazi (Nothing going on)." The Nyali MP responded by listing a number of projects he'd undertaken in the said area.
"I don't know which section of Mkomani you live in. The projects there are; Phase 1 Renovation of Maweni Primary, dining hall, classrooms, desks, a school bus in Maweni Secondary School, new primary school, Pentrose Community in Shauri Yako as well as Cabro Road from Nyali Hills to Shauri Yako," he replied.
Another user, Itumu, asked constituents to recall the MP, stating that he was an absentee leader who was more focused on politics.
"Watu wameteta sana yako ni kuharibu barabara. Unamwaga Mawe kubwa na barabara hazipitiki. Watu wanavunjika miguu!  (People are complaining that you are damaging roads by pouring big rocks in the name of fixing them. People have injured themselves on those roads.)
Your work is to move around under DP William Ruto without caring for your people. You are not seen in your constituency and haven't done any job. You should be recalled," he criticised.
Mohammed Ali responded by clarifying that cabro, and not big rocks, were being used to repair the road.
"Bro Nyali hatumwagi mawe! Hapa ni cabro tu. Ama ulikuwa unamaanisha Nyeri? Tafuta mheshimiwa wa huko (We are not laying stones, rather cabro. Maybe you were referring to Nyeri in which case, ask the leader of that region)," he fired back.
On the other hand, some residents commended the MP for his work in the area.
User, Gichau Wa Mbaage stated, "Keep going sir, your contract is with Nyali people, deliver to them and forget the naysayers who can't see anything positive."
"Nothing but respect for my MP" another user noted.
Some took the opportunity to highlight poor infrastructure that required the MP's attention to which he promised to follow up on.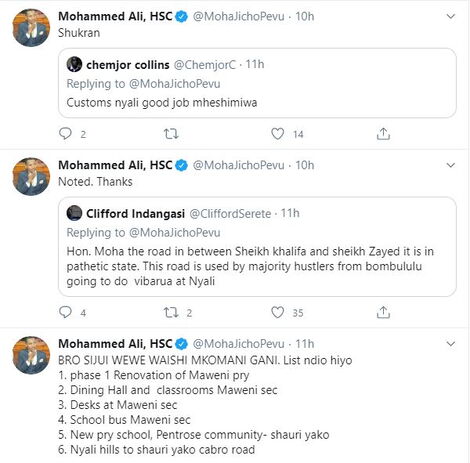 Nyali MP Mohammed Ali responding to some claims by a section of Kenyans on Thursday, May 14.
TWITTER
Related