One Dead in Car Shootout Near Police Station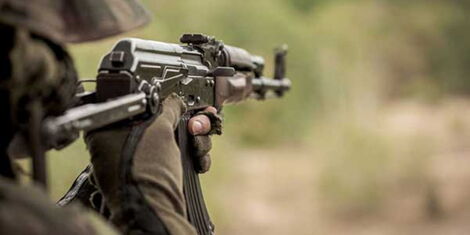 (COURTESY)
A driver was shot dead along Mombasa-Nairobi Highway after thugs opened fire on his car.
A report by Daily Nation on Tuesday, June 1, indicated that the thugs abruptly opened fire on his car just a kilometer away from Changamwe Police Station.
Quoting a police report from the station, the media house indicated that the deceased was driving in a Toyota Premio.
The report further indicated that the victim, who was driving from Kibarani towards Changamwe, died on the spot.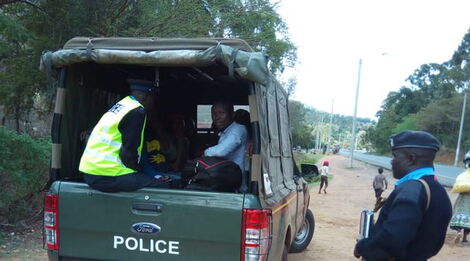 Police officers patrolling in Kenya during the Covid-19 pandemic
FILE
"A Toyota Premio driven by one unknown male was driving from Kibarani towards Changamwe. On reaching Changamwe roundabout, a vehicle approached it," read the report in part.
The report was made to the police station anonymously.
The body of the deceased was transferred to Coast General Hospital mortuary awaiting post-mortem.
This comes even as insecurity across the country continues to sour in what experts reckon is the negative effect of the Covid-19 pandemic to the economy.
In mid-April, three robbers were shot dead after they were caught on CCTV cameras robbing supermarkets.
Police in Eldoret Town disclosed, at the time, that the three were gunned down after a fierce shootout between the gang of five and enforcement officers.
In the incident which occurred at around 7.30 pm, the thugs had come out to rob Transmatt supermarket located within the CBD.
On Sunday, May 30, a 17-year-old police imposter was put behind bars alongside a 26-year-old accomplice, after being nabbed allegedly conning clients in Nakuru Town.
The two were reportedly found in possession of military gear including jackets and handcuffs.
Upon interrogation, the duo directed the police to a private household in Mwaniki Estate in Nakuru where additional equipment was recovered.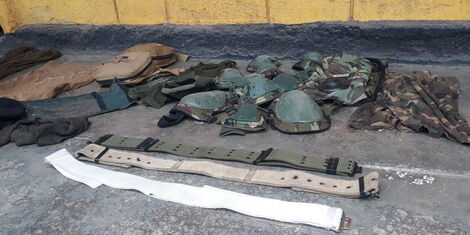 Police regalia recovered at a private homestead in Nakuru County
Related