Online Businesses: How Kenyans Are Making it on Social Media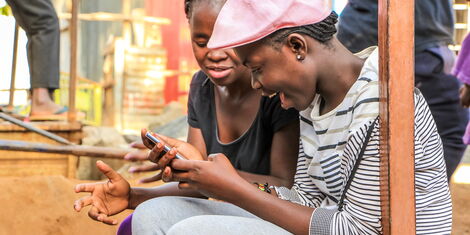 Social media platforms in Kenya have in recent months witnessed an influx of small businesses harnessing the power of the internet.
Turning hype to profits has become the dream for many Kenyans determined to leverage social media for financial success.
The influx has been especially apparent during the Covid-19 period, a time when many Kenyans have experienced losses of income.
Amid wage cuts and lay-offs, many have stayed afloat by doubling down on efforts to push their products and services on social media.
New and existing businesses have turned to Twitter, Facebook, WhatsApp and Telegram to get on the radar of prospective clients.
File image of a man on his phone
Among the fully-online businesses are several foodstuff vendors, shoes and clothes stores, and professional services businesses.
Other businesses with physical locations including bars, restaurants, liquor stores, and butcheries have attracted increased foot traffic by rave reviews going viral on social media.
It is, however, instructive to note that many of the establishments have also actively committed to creating communities and well-known brands on social media.
Those in the creative economy, including dancers, artists, and DJs have also found ways to earn from their talents online.
To earn a pretty penny from social media, business owners need to capture the imagination of many Kenyans leisurely scrolling through their timelines.
Develop dedicated pages with consistent branding across all platforms to promote your businesses.
Also, develop a brand voice to use across all your social media channels.
Engage members of the public, post consistently and build interest around your business.
It helps when social media users can offer testimonials of the quality of the products and services you offer.
Don't hesitate to make call to actions urging netizens to patronize your business.
Banter and conversations unrelated to business have also been proven to build stronger personal connections with customers.
Saina, a liquor store owner in Lang'ata, Nairobi revealed how his business got a major boost from social media.
"I opened around May at the height of the pandemic. I got a lot of support, especially, from Twitter.
"I announced the opening there and Instagram, shared photos of the place and price list, and urged people to support a new business by a young Kenyan," he stated.
He disclosed that some of the customers who came into the store stated that they saw his tweet which got about 340 retweets. He also received several phone orders to make deliveries.
Errol*, an artist who makes custom artworks, revealed how social media had helped him turn around his fortunes during the pandemic.
"Things were bad before the pandemic so it has actually improved for me.
"I had always been pushing on Twitter but some of my designs were noticed and purchased by famous personalities which drove growth in sales as I started getting more orders," he stated.
He further revealed that he undertook a price review off the back of increased demand, raising prices and introducing new products.
Ian, a rapper and dancer who has appeared in several hit music videos, described the Covid-19 period as a blessing in disguise.
"I was in a lot of artists videos and my Instagram was big but I wasn't creating much of my own content.
"I started posting dance covers to my YouTube channel which helped me get a lot of new subscribers.One of the early videos went viral," Ian revealed.
He stated that he capitalised on the new-found following by charging for custom dance videos shared on TikTok, YouTube and Instagram for artists to promote new music.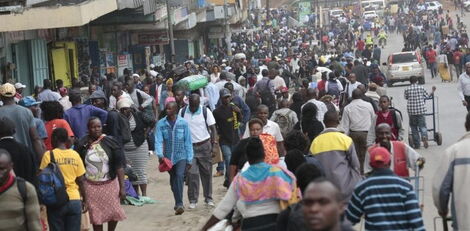 File image of Kenyans walking in a street in Nairobi
Related