Parents Blast Magoha After Statement on Kakamega School Tragedy
Parents who lost their children in the Kakamega Primary School stampede back in February blasted Ministry of Education Cabinet Secretary Professor George Magoha after his remarks.
The parents are now demanding an investigation report by the Government on the stampede be made public after almost four months of waiting.
"We are shocked that a whole Cabinet Secretary can come and say that the investigational report will not be released while initially, he said it will be released to the public when he visited after the tragedy.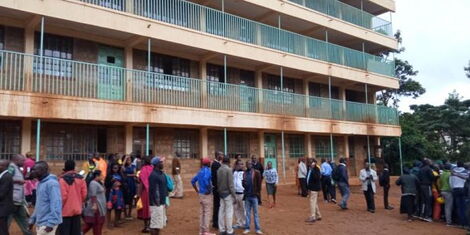 Parents from Kakamega Primary School where a stampede occurred on February 3, 2020.
"A reporter asked him about the latest development on the report he promised after 15 days. He said there is no report that will be released and added that if Kenya focused on history it would not have developments," noted one of the parents.
Magoha urged parents to bury the hatchet on the incident while touring the school on Sunday, June 14 to inspect it ahead of a possible reopening in September.
Irene Ambundo, one of the parents who lost their child in the tragedy, was puzzled by the laxity of teachers from the school.
"We want to know what happened, bodaboda riders cannot come from outside the school to save our children while teachers are in school seated.
"Teachers from other schools cannot jump over the fence to save our children while those in the school are just there. We are now told not to focus on the past," she stated.
Another parent was irked by Magoha's statement asking him to have some sympathy for them after losing their young ones.
"I'm in pain, what does it mean when Magoha comes here to tell us we should forget what has happened, how can you raise a child, take them to school and they return dead and tell us to forget. Magoha should have some sympathy," noted one of the mothers.
The Monday, February 3 stampede left 14 schoolchildren -nine girls and five boys – dead and 39 others were injured.
On the morning of Tuesday, February 4, Education Cabinet Secretary George Mahoga accompanied by Government Spokesman Cyrus Oguna and Basic Education PS Dr Belio Kipsang visited the school.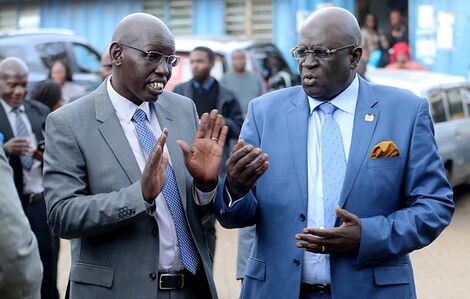 Basic Education PS Bellio Kipsang with CS George Magoha at the Kibra DO's office on January 27, 2020.
Related