Police Chase Away Man Bleeding Profusely After Assaulting Him [VIDEO]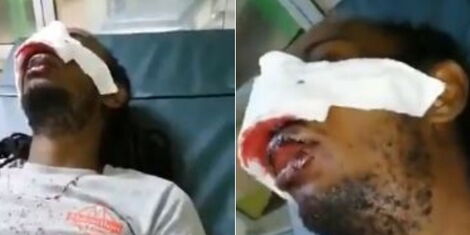 The National Police Service is in the spotlight again after officers chased away a bleeding man who went to report a crime at Kahawa West Police Station in Nairobi.
Activists Boniface Mwangi and Wanjeri Nderu highlighted the plight of the man, identified as Samuel Maina, through their social media pages on Thursday, May 28.
According to Maina, he was robbed and assaulted by two police officers after he was found outside during curfew hours.
Samuel Maina details how he was reportedly assaulted by police officer on Saturday, May 23, 2020
"They even stole my phone. Imagine a police officer in a uniform!" Maina stated in a video seen by Tmz.co.ke.
The injured man claimed that his assailants attacked him, broke his nose and left him unconscious while bleeding profusely.
Maina, later on, headed to the police station where his attempt to report the crime failed. He further begged the officers to rush him to the hospital, which they also refused claiming that he was a mad man.
Some of his friends rushed him to Kenyatta National Hospital, where doctors reportedly ascertained that his nasal bone was broken.
"I know them and I can identify them. They are officers located at the Chief's camp at Kahawa West.
"I wanted to die at that camp so that they would see me passing away," he lamented.
Kenyans on social media criticised the police for reportedly assaulting Maina as the incident sparked outrage.
"Duty officers at the police post report should also be questioned for refusing to assist him and take his statement," Boniface Mwangi stated.
Speaking with Tmz.co.ke, Dennis Oketch, the Head of Communication and Outreach at the Independent Policing Oversight Authority (IPOA), stated that the agency would follow up on the matter conduct an investigation.
"We will deploy our rapid response team immediately and ascertain the truth behind the matter," Oketch stated.
Maina, on Thursday, May 28, was allowed to record his statement at Kahawa West Police Station and later took the Officer Commanding Station to the crime scene after activists stormed the camp.
"Riots ensued at the camp as some of us left to pick a P3 form for him," a friend of the victim confirmed.
Video: Twitter
Related