Police Commander Disguised as Mechanic Nabs Revellers During Curfew [VIDEO]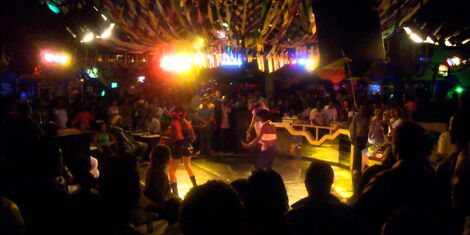 Kiambu Police Commander Ali Hassan Nuno devised a new way to personally capture Kenyans breaking curfew.
In a video that surfaced on Sunday, July 26, the commander dressed up as a mechanic and proceeded to some of the entertainment joints that were still operating passed curfew hours and made some arrests in the process.
The clip showed the officer dressed in a red apron during the raid on the notorious joints where the camera also captured a number of revelers escaping their respective joints with alcohol bottles strewn on the ground.
He also narrated that due to the nature of his job, he could no longer visit his wife and children as he feared to infect them with the dreaded disease.

Kiambu Police Commander Ali Hassan Nuno confronting a woman.
"We do not know what our status and conditions are. Some of us are even forced to quarantine ourselves from the home.
"My wife and children are in Lang'ata but I cannot go. That is why I am in Kiambu. I do not even want to go because in the nature of my job, I interact with the public," he spoke during the operation in Kiambu Town.
Several bar owners were caught red-handed during the operation and were ordered to shut down their premises. In his address, he also confirmed that a prison warden had succumbed to the dreaded virus even as cases surge with the country recording over 900 cases in a single day.
This comes after the Presbyterian Church of East Africa (PCEA) announced the death of its Secretary-General Peter Kariuki to Covid-19 complications and also called out to Kenyans to seek testing for the deadly virus.
Below is the video:
Police officers, their security counterparts and healthcare workers are some of the most affected professionals by the virus with some noting that they have not been properly trained to tackle the pandemic.
Clinical officers' union chairman Peterson Wachira has revealed that medics were at a higher risk of contracting the virus as the country did not avail enough personal protective gear.
"We conducted a joint health workers' survey, which revealed that 72% of health workers performing aerosol-generating procedures do not have proper protective equipment.
"They do not have N95 masks while 74% are anxious that they are not using the protective equipment properly," noted the union's Secretary-General George Gibore.
In another report, security officers indicated that they were exposed as they are tasked with maintaining security as well as admitting people into buildings.
They also noted that most of the people they interact with are arrogant and at times show up without facemasks.
Below is the video of the operation:
Related