Police Nearly Shot Me Jumping Office Gate – Radio Presenter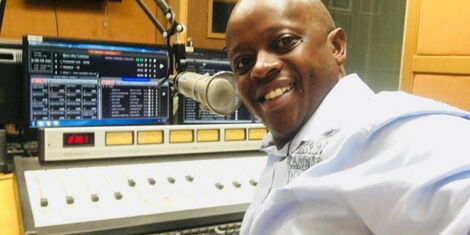 TWITTER
Popular Kameme FM presenter Njogu Wa Njoroge has opened up on a time police nearly shot him as he left work.
In an interview on a YouTube channel, Njogu stated that the incident occurred in the early years just after joining the station in 2008.
The radio journalist narrated how he had left office at 4 a.m after his night shift, only to find the gate locked from outside and the security guard gone.
"The watchman had gone dancing at a local club, and so I decided to jump over the fence and land on the roof of a company car that had come to pick me up," he narrated.
Kameme FM Presenter Njogu wa Njoroge (left) with President Uhuru Kenyatta
FACEBOOK
Just as he was on the fence and about to jump, a police car on patrol appeared on the road, and there he was, hanging on the company fence.
The officers jumped out of their vehicle, corked their guns ready to shoot the journalist who was still dangling suspiciously on the fence.
"I was really scared. I frantically identified myself as a journalist, and that softened the officers. The company driver was also calm and composed, and that allayed the fears of the police officers that we were thugs," he added.
With his identity confirmed, the officers helped him off the fence.
Njogu further revealed that prior to joining media, he worked as a casual labourer at a construction site in Mwea where he would earn Ksh300 a day.
"The work was back-breaking, extremely tiring, especially lifting the heavy stones," he recalled.
Keen to pursue a career in journalism, he honed his skills by practicing reading news, imitating his role models including Jack Oyoo Sylvester and Edward Kadilo.
Njogu has a huge following among the Gikuyu language speakers.
Apart from his journalistic prowess, he has emerged as a shrewd mobiliser who uses his radio platform to raise funds for various causes.
During a 2016 thanksgiving service at Kasarani Stadium to celebrate his 15 years in media, he raised Ksh2 million to help children with special needs in Njoro, Nakuru.
Kameme FM presenter Njogu wa Njoroge
Related