Police Officer Found Dead, Wife Rushed to Hospital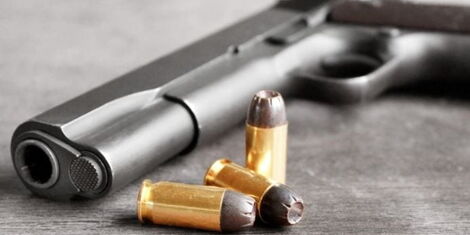 A police officer, Michael Siwalo, was on Friday evening, May 15, found dead in his bedroom as his wife was nursing a gunshot injury at their rented house in Timau, Meru County.
A police statement seen by Kenyans.co.ke noted that the couple's bedroom looked messy, indicating that there might have been a domestic fight before the fatal incident took place.
Officers who got to the scene noted that Siwalo's wife, Silvia Ramat Letei, was in too much pain to explain what had taken place.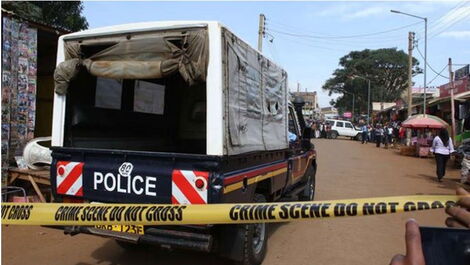 A police vehicle at a scene of a crime
She had a gunshot wound on her stomach while her husband was found lying on the floor with what appeared to be a gunshot wound on his chest.
"Police proceeded to the scene and found the officer's 25-year-old wife seated leaning against the wall at the main door. She was in a lot of pain and was bleeding," reads a police statement on the incident.
Ramat was rushed to the Nanyuki Teaching and Referral Hospital in a serious condition.
According to the police, Siwalo had at 6 p.m. been issued with an AK47, which was loaded with 30 rounds of ammunition in preparation for curfew patrol.
The same rifle is believed to have been recovered in the bedroom with a magazine loaded with 27 rounds and one in the chamber. Two other cartridges were also recovered from the scene.
Crime detectives are since probing the incident further to see what might have caused the fatal shooting.
Since the Coronavirus pandemic broke out in the country in March, cases of domestic violence have been on the rise.
In a press briefing on Tuesday, April 15, Health CAS Mercy Mwangangi complained that gender-based violence had been on the rise.
"Fellow Kenyans cognisant of the measures we have taken in the fight of this disease, we are now witnessing a spike in domestic violence, gender-based violence and sexual offences.
"Now is not the time to engage in disputes and to forget ourselves in terms of conferring domestic violence to our partners," the CAS lamented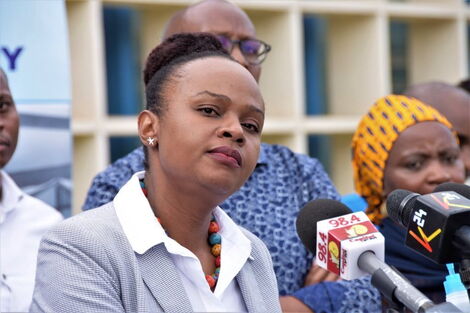 Health Ministry Chief Administrative Secretary Mercy Mwangangi addressing the media, April 2020.
Related