Police Open Fire, Nab 23 Teachers in Class [VIDEO]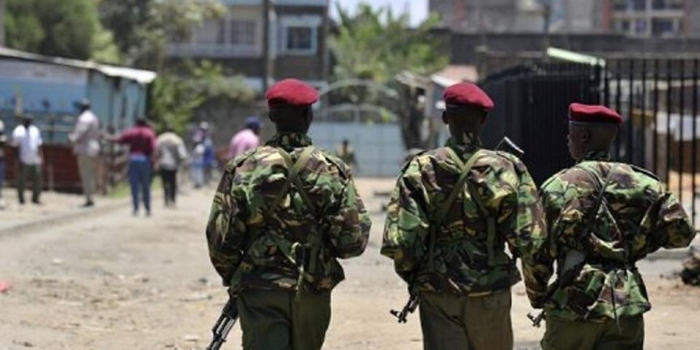 Police officers opened fire while arresting some 23 teachers during a class session in Lodwar on Thursday, May 7.
According to a report by Daily Nation, the 23 teachers were part of a cohort of 61 tutors who were being trained on how to conduct online studies.
The police are reported to have shot in the air before later escorting the 23, who queued and held each other's backs, to a waiting police Landcruiser.
Confirming the incident, Turkana Police Commander David Mburukua disclosed that the team was taken into forced quarantine at Lodwar Hospital.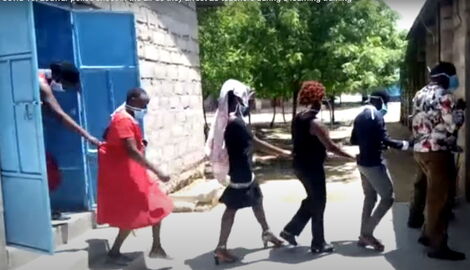 A screenshot of some of the teachers arrested in Lodwar on Thursday, May 7, 2020.
DAILY NATION
The incident took place at the Mission of Hope Napuu where they had converged for a course on how to school their students virtually.
It is still not clear what befell the other 38 colleagues.
This comes as crackdown intensifies on public gatherings and crowding with the government taking drastic measures to combat the fast-spreading Covid-19 virus.
Health CS Mutahi Kagwe announced a cessation of movement in Eastleigh, Nairobi, and Mombasa's Old Town after recording the highest Covid-19 cases for openly flouting laid down safety measures.
Complains have also emerged that several neighbourhoods across the country were back to normal business models, disregarding the social distancing requirements issued by the state.
On the other hand, education stakeholders have lamented that virtual learning has to disadvantage a section of students affected by several factors including flooding and lack of connectivity to power or the internet.
In its Class One laptop project, the government had fallen short of distributing the materials countrywide and as of 2018, only 91,000 teachers had been taught on handling digital schooling.
At the same time, some 1 million devices had reportedly been supplied to 19,000 public schools representing 82 per cent of the total institutions, according to Data from the ICT.
The country has more than 31,000 primary schools.