Police Rescues Jobless Kenyan, Sends Him to Family With Goodies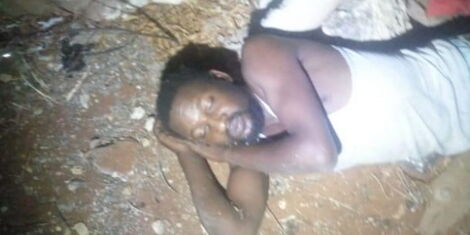 A police officer in Wajir County has touched the hearts of many Kenyans after he rescued a jobless and homeless man who lived in the streets for over four months. From April to around August 2020.
Speaking with TMZ.co.ke on Tuesday, September 1, Sammy Michael lauded officer Boniface Mbuvi for hosting his brother Boniface Mutwiri in Wajir for two weeks, before sending him to his relatives in Githunguri, Kiambu County.
Michael stated that he connected his sibling Mutwiri with an employer in Wajir, who tasked him to take care of his farm and livestock. However, the livestock perished and with Covid-19 breaking out in the country, the employer had no other option but to fire Mutwiri.
Mutwiri was forced to find shelter in the streets as he had no money to purchase a bus ticket to Nairobi. The issue got out of hand when President Uhuru Kenyatta initiated the cessation of movement through the inter-counties lockdown in Nairobi, in April 2020.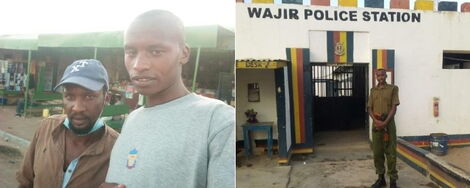 Left photo: Officer Boniface Mbuvi (right) with Boniface Mutwiri (left) after rescuing him from Wajir County streets. Right photo shows the officer at his duty station.
"We were so worried as we could not locate him. He even missed our father's burial during the Covid-19 pandemic and we were told that he almost went crazy.
"Then one day, all of a sudden, I received a call from a police officer at Wajir Police Station who told me that he found him lying in the streets, hosted him and was sending him back home. My brother thought that he had been arrested," Michael stated.
He added that the law enforcer sacrificed despite having an ill mother who needed attention, and a family of his own to feed.
Mbuvi, the police officer, added that he booked a ticket worth Ksh 3,500 for Mutwiri after hosting him. He also bought him a phone for communication and clothes, coupled with pocket money.
With Wajir being an area prone to terrorism, the officer ensured that Mutwiri was given a letter from the police station for identity purposes as he had lost his identification card.
He also kept checking on Mutwiri from time to time as he traveled back home until he arrived home safely.
"I asked him to notify me when he arrives so that I can ask the telecommunication company to lock the line as it was registered under my name. This is for security purposes as it may land in bad hands and be misused.
"What motivated me is the fact that I was born and raised in a Christian family and we were taught to love not only Christ but our fellow human beings. I also pitied him having heard that he missed his father's burial," Mbuvi who also serves as a church administrator in Wajir sated.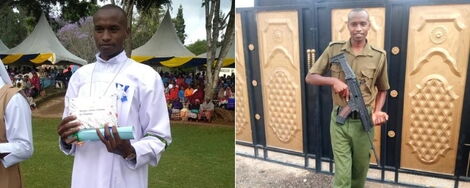 Photo collage of officer Boniface Mbuvi serving at church and at work
Related