Protest Erupts in Nairobi Over "Uhuru's Empty Promise" [VIDEO]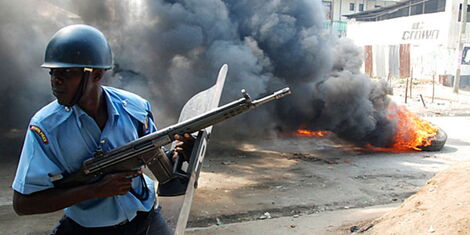 Police were forced to lob teargas canisters at a group of youth who were marching in protest towards Embakasi Sub-county offices.
The rowdy youth from Mukuru slums on  Friday, May 29 complained that they had not been paid for work done under President Uhuru Kenyatta's National Hygiene Program.
They engaged in running battles with the police who were forced to clear rocks that had been used to block the busy Thika Superhighway.
"We were told that the money was disbursed but I have not received a penny yet. I have needs and I've been locked out of my house by the landlord. I have nowhere to go," lamented one of the workers.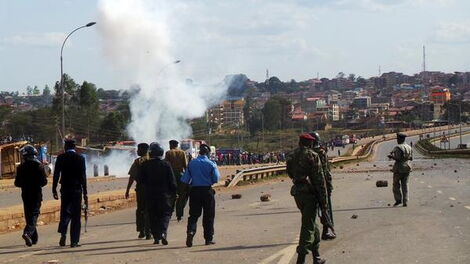 Anti-riot officers pictured along Thika Superhighway, Githurai area during a mass protest on September 9, 2014.
The workers stated that the government was being insensitive as they had worked for more than two weeks without pay.
Embakasi Deputy County Commissioner Kenneth Murungi told the media that some of the workers had registered wrong personal details which occasioned the delay.
Under the National Hygiene Program, each worker is supposed to receive Ksh 653 per day via mobile money transfer.
"When we were recruiting them, most of them gave us incorrect details. Remember we are paying through mobile money and for the payment to go through the ID and phone numbers must match," Kenneth Murungi stated.
The Kazi Mtaani initiative seeks to engage more than 10,000 jobless youth living in informal settlements in Nairobi by providing a source for daily income in the face of the Covid-19 pandemic.
It is a program meant to created employment for over 26,000 young people spread across 23 informal settlements countrywide.
The national programme which is on a trial phase is being rolled out simultaneously in Nairobi, Mombasa, Kiambu, Nakuru, Kisumu, Kwale, Kilifi and Mandera counties which are identified as coronavirus hotspots.
"Currently during the trial period which we have been executing over the past few weeks, we have engaged a total of 26,000 young people and hopefully with the passage of the budget that we have presented before Parliament we want to increase that number to 200,000," the president said in an address from State House on May 23, 2020.
Related