Protests Erupt in Kakamega After Sugar Truck Kills 4 [VIDEO]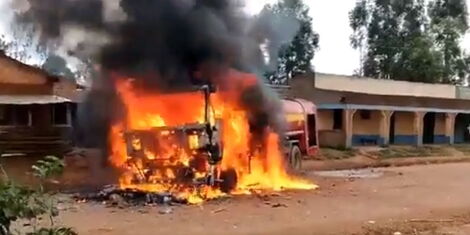 Kakamega County was the stage of chaotic scenes on the evening of Saturday, August 15, as an angry mob burned down a fire engine in protest.
The group had initially burned down a truck ferrying sugarcane after it ran over a boda boda killing the rider and all 3 onboard on the spot.
Reports further revealed that the 3 passengers were relatives.
The tragic incident near happened next to Shamberere Technical Training Institute along Kambi ya Mwanza Road.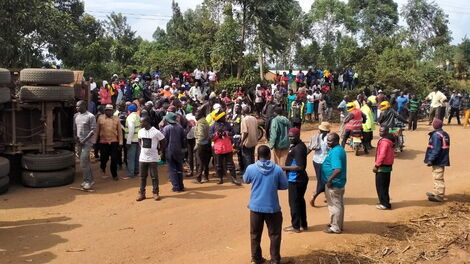 Members of the public at the scene of an accident in Kakamega North, in which a boda-boda rider and his three passengers were crushed to death by a trailer, August 15, 2020.
According to witness reports, the trailer is said to have veered off the road and then overturned and landed on the four.
It was at this point that the fire truck rushed to the scene to put out the fire that broke out.
However, the incensed mob intercepted it and set it ablaze before taking to the streets in protest.
Workers from the sugar company who also rushed to the scene in a bid to help in retrieving the bodies were also attacked by the mob.
During the protests, the residents urged their government to tame the sugar firms, further claiming that they were operating without obeying the rule of law.
Kakamega County Deputy Police Commander James Ngetich deployed officers to the scene to restore calm, with teargas being used to disperse the mob.
The protestors had also placed rocks and tree trunks across the road, paralyzing traffic in the area.
They accused truck drivers of speeding along the road and endangering the people's lives.
Watch the chaotic scenes in Kakamega below:
Related