PS Kibicho & Wife Celebrate 25th Anniversary in Private Event
The invite-only event was held at Gathuthiini ACK in the county on Sunday afternoon, June 5.
Kibicho, Wangari and the family later treated their guests to a reception at Gathuthiini Primary School, sources privy to the event and the PS told TMZ.co.ke.
Among those reportedly in attendance at the reception were top government officials including a number of Cabinet Secretaries.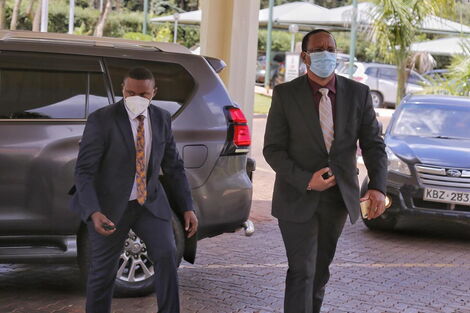 Interior PS Karanja Kibicho arrives at DCI Headquarters on January 25, 2021.
FILE
Kibicho and Wangari also renewed their vows. "The event was kept under wraps and so far no photo of the ceremony has been shared," the insider detailed.
The couple is blessed with three children Lynette Muthoni Karanja, Kibicho Karanja Kibicho and Nyawira Karanja Kibicho.
While celebrating his daughter's birthday in 2015, the PS recalled how his wife was rescued by a neighbour in 1997 while she was facing labour pains.
"On July 7, 1997, there were demonstrations all over Nairobi to mark Saba Saba day. There were bonfires on the roads that scared all matatus and taxis from operating. I was stranded in JKUAT for lack of transport. Wangari, my wife, got into labour pains.
"Despite our careful planning of having her carry taxi money in her purse during that time just in case it happened while I was away, no taxi could dare (ferry her). A courageous neighbour, the only one who owned a car, braved the bonfires and got Wangari to MP Shah. That night a baby girl was born. We named her Muthoni," Kibicho recalled.
One of the personal decisions made by the PS in his recent years was quitting alcohol.  In March 2021, he revealed that the President calls him up to 10 times a day and he is always at work throughout the day and night.
"I used to take alcohol moderately. But when I was appointed to this post (Security PS), I have never drunk because I know that I am required to be very alert and keen at all times," he said in a past address to National Government Administration Officers.
The PS is expected to contest a political seat in 2022, most preferably the Kirinyaga Governor's seat.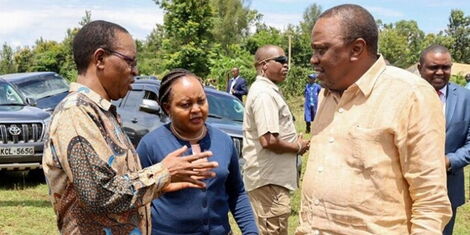 President Uhuru Kenyatta with Governor Anne Waiguru and Interior PS Karanja Kibicho during a development tour of Kirinyaga County in February 2020
Related