PS Macharia Kamau Recounts Feeling Dizzy & Collapsing Over Covid-19 [VIDEO]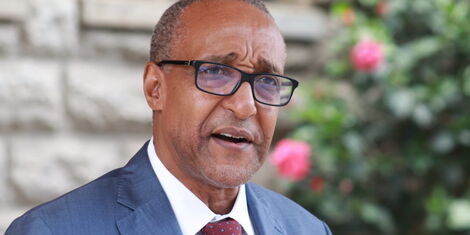 Foreign Affairs PS Macharia Kamau, on Wednesday, August 5, narrated that he suffered dire symptoms of the dreaded Covid-19 virus.
While appearing on JKLive, the ambassador revealed that the beginning of the second week since he tested positive was his most problematic.
He further explained that he suffered dizziness and even momentarily passed out one morning while he was having breakfast.
"My worst day was the Monday after the testing. In other words, a week into my symptoms. Let's say my symptoms started two weeks ago on Monday. I began to feel very tired in the first week.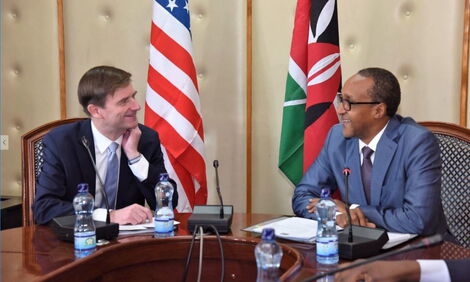 US Under Secretary for Political Affairs David Hale with Foreign Affairs PS Ambassador Macharia Kamau
"They say the second week is the worst week and in my case it was. On that Monday, I got up and I came to breakfast. In the middle of breakfast, I got a temperature spike and I began feeling dizzy and delirious. According to the person who was helping at breakfast, I actually passed out for a few seconds," he explained.
He further revealed that he had experienced symptoms before as he would routinely feel off and would not complete his morning exercise regimen of doing 50 push-ups and running five kilometers.
"I remember not being totally coherent but it is like having a severe hot flash. I remember picking myself up slowly, getting myself on the couch and letting myself recoup.
"Within two hours, I was okay enough to call and speak. It was clear in my mind that my condition was not severe enough to warrant hospitalization," he added.
He revealed that he was informed of his status during mass testing at the ministry after feeling off for a while.
"I knew I was Covid-19 positive during a testing exercise at the Ministry…I had been feeling a little off…I had been taking all the necessary precautions so I did not expect that I would turn out positive," he stated.
A week after he tested positive, the CS questioned the management of the pandemic wondering how the Covid-19 funds were being spent.
He argued that contact tracing had collapsed and that a good number of people were not accessing proper health care.
In an earlier phone call with TMZ.co.ke, Foreign Affairs head of communications, Jane Kariuki, stated that PS Kamau had been self-isolating at home since Friday, July 24, 2020, when he tested positive.
The PS delegated some of his duties to Political and Diplomatic Secretary, Ambassador Tom Amollo.
Below is the video:
Related