Questions Raised Over CS Kagwe's Whereabouts After Missing From Pressers
Health Cabinet Secretary Mutahi Kagwe has been conspicuously missing from government's daily Covid-19 pressers, raising doubts on his whereabouts.
Kagwe has been the face of the pressers, briefing Kenyans on the developments of the pandemic, as many people became accustomed to his communication style.
However, for over a week, the CS has gone low-key prompting Kenyans to raise questions on social media platforms with the hashtag Kagwe trending for over two days, since Thursday, May 14.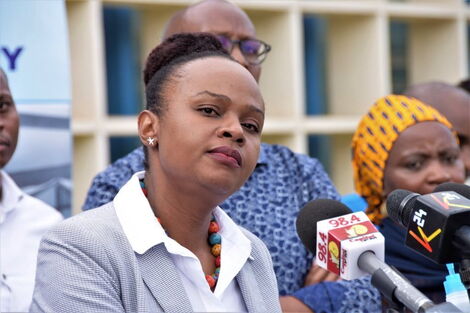 Health Ministry Chief Administrative Secretary Mercy Mwangangi addressing the media, April 2020.
The senior govenrment official's last appearance was on Wednesday, May 6, where he confirmed 582 cases of Coronavirus (781 as at Friday, May 15) as he announced the cessation of movement in Eastleigh (Nairobi) and Old Town (Mombasa).
"You can go and shop in the area. What you cannot do is leave the area to go to another area. Specific geographical locations will be clarified by the Ministry of Interior Coordination of the National Government. Public transportation is not allowed to go into these areas," he explained.
Ever since, for nine days, his assistants, Chief Administrative Secretaries Dr Mercy Mwangangi and  Rashid Aman have been tasked with the daily pressers.
Kagwe surfaced on Friday, May 15, via social media where he announced that free mass testing targetting members of the public would start on the very day.
"Can someone kindly tell me where Mutahi Kagwe isolated himself," one Keith Muloma tweeted.
"Where is CS Kagwe? Watoto watamsahau (the children will end up forgetting him)," Ngige James wondered.
"Where is Mutahi Kagwe? Why is it that after announcing the famous 'sausage na beer bili', he goes missing?" Frank Ochari added.
Speaking with TMZ.co.ke, Kagwe allayed fears that he was in isolation but played cagey with his whereabouts.
"I am okay, and all those reports stating that I am in isolation are false and baseless," he explained.
Government spokesperson Cyrus Oguna added that there was too much work at the Ministry of Health and Kagwe was devoted to ensuring that other departments were also running.
Oguna also clarified reports that the government was only targetting densely populated areas for Covid-19 free tests after questions were raised on why lavish estates were not subjected to the tests.
"We conduct tests in high-risk areas, not densely populated areas. We test hotspots and also borders.
"On whether there would be a curfew extension or not, that is a decision that will be made tomorrow by another department tasked with analysing Covid-19 progress," Oguna explained.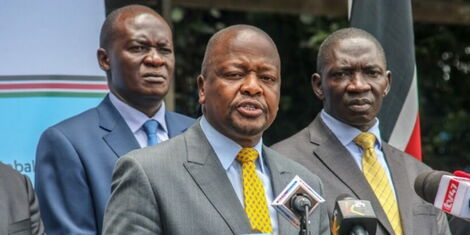 Health CS Mutahi Kagwe (centre) addresses the press in April 2020 alongside Health Director-General Patrick Amoth (behind) and Government Spokesperson Cyrus Oguna (right)
Related