Raila Abandoned NASA After 2017 – Kalonzo [VIDEO]
Wiper Democratic Movement (WDM) party leader Kalonzo Musyoka spoke on the shaky future of the National Super Alliance (NASA) coalition on Sunday, June 21.
Kalonzo was interviewed by Anne Kiguta on her show Punchline, days after Wiper signed a co-operation agreement with the ruling Jubilee Party.
Questioned on what it meant for Wiper's engagement with NASA, Kalonzo explained that the opposition coalition had failed to live up to a pre-election agreement signed before the 2017 election, that committed them to working together after the polls even in the case of a loss.
He noted that the coalition's top organ, the summit, had not met in three years and pointed an accusing finger at the Raila Odinga-led Orange Democratic Movement (ODM).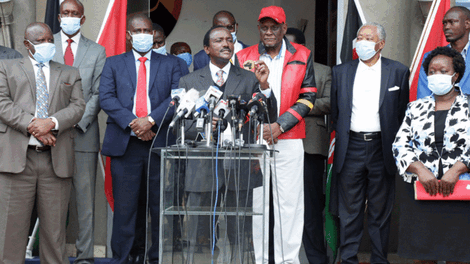 Wiper leader Kalonzo Musyoka addresses the press after signing a post-election coalition with Jubilee at Jubilee House in Nairobi. June 17, 2020.
Kalonzo disclosed that he had tried to convene a summit meeting on various occasions, but only Amani National Congress (ANC) led by Musalia Mudavadi and Ford Kenya, then led by Moses Wetangula, were willing participants.
Also read;
"That cooperation was supposed not just to aim at winning the elections in 2017, but it says that the NASA sister parties would cooperate until the next general election.
"And even when we get to the next general election, under the terms of that coalition agreement, we were going to look at the possibility of renewing further cooperation.
"But the reality Anne, is that we have not sat as a summit. The highest organ of NASA is the summit, but we have not met since the last general election," he stated.
He voiced his suspicions that Raila's refusal to participate in the summit meeting was due to the controversy over how to share billions from the Political Parties Fund.
ODM secured Ksh4.1 billion from the Political Parties Fund in 2019 after a protracted battle ended in the Court of Appeal.
"ODM were not able to come to the table. I think the issue must have been because of the dicey issue of sharing under the political parties fund. But that is something that can be still handled," he stated.
ODM Chairman John Mbadi had asserted that they owed nothing to ANC in particular as they were not part of the same coalition when they filed the case in 2015.
He further stated that while Wiper and Ford Kenya's claims could be considered, only ODM and Jubilee were entitled to the funds by virtue of their numerical strength in Parliament.
"The Sh4.5 billion they keep referring to is as a result of a court case entered by ODM before 2015. It was before we formed the National Super Alliance (NASA), which ANC is part of.
"We could have shared with them if we were going to get funding from the votes garnered at the presidential level. NASA did not participate in the repeat presidential election.
"The money we get is for the five positions – MCA, Woman Rep, Senator, MP and governor. Our partners fielded candidates against us," he argued on Sunday, June 21 after various coalition partners cried foul.
Wiper party leader Kalonzo (Standing in the Back row Centre), pictured at Jubilee Party Headquarters on June 17, 2020.
Related