Rashid Abdalla Rebukes Uhuru, Raila & Ruto on Citizen TV [VIDEO]
INSTAGRAM
RASHID ABDALLA
Citizen TV anchor Rashid Abdalla on Saturday, September 12, called out a number of politicians who have been holding rallies, for not adhering to social distancing measures during the Covid-19 pandemic.
Some of the leaders who have held events with large crowds in different parts of the country within the past weeks include President Uhuru Kenyatta, DP William Ruto and ODM leader Raila Odinga .
During the bulletin, the anchor pointed out that the politicians should put their ambitions to win people to their fold on hold until the pandemic is under control, as they could lead to a spike in cases.
Watch the video of Rashid Abdalla below:
"The measure of good leadership is actions, not lip service. It does not make sense to urge citizens to follow government directives on social distancing when the leaders are the first to break the rules," he stated.
Abdalla observed that if the politicians were keen on pushing their agenda, then restrictions should be lifted as businesses and ordinary citizens had suffered a major economic setback.
"If it is possible for leaders to hold gatherings, it should be the same for 'Wanjiku' and for artists as well," he stated.
The President, DP Ruto and Odinga have in the past few days been spotted entertaining huge crowds in different parts of the country. Uhuru caused a stir at Ruaka shopping centre on Wednesday 9, after he made an unexpected stop while driving through the area.
Hundreds of people, majority of whom had no face masks on, flocked around his car, as he opened the sunroof and began addressing the multitude, urging them to be wary of the virus.
Raila, who currently in the Coastal region has been pulling huge crowds while drumming up support for the Building Bridges Initiative (BBI).
On his part, DP Ruto was in Kisii where residents showed up in hundreds to receive him.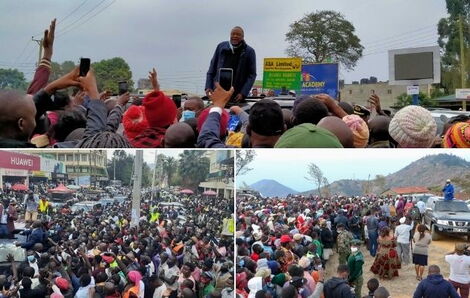 Politicians holding rallies. President Uhuru Kenyatta (Top), Deputy President William Ruto (Bottom Left) and Raila Odinga.
FILE
Health CAS Rashid Aman during an address on September 9, stated that the events were rolling back gains made since the fight against the pandemic began.
"We can definitely see a spike in cases if we do not observe the rules and regulations. Like we have seen in other countries as regulations are relaxed, some have had a second wave of the pandemic," he stated.
Aman stated that politicians holding rallies attract huge crowds, hence creating an ideal condition for mass transmission of the virus.
Related