Ray of Hope for Tharaka Woman Tortured by Husband [VIDEO]
Stories of the brutality Charity Wairimu went through in the hands of her husband James Kifo Muriuki sent shock waves across the country over the past week.
Speaking while receiving treatment at JM Memorial hospital in Nyandarua County, the mother of one explained that her husband sprayed pepper and salt in her vagina before using a knife to stuff the contents inside her and later sealed her private parts with superglue.
She recalled that after the incident, she got first aid from a nearby hospital before being taken to a police station to record a statement.
Dr. Jackson Macharia, a gynecologist at the hospital explained that Wairimu was responding well to treatment.
"The patient is stable and in fair general condition, conscious and is speaking well. When she got here, we took her to the theatre where we found a few lacerations that we corrected.
"We are hoping to discharge her at the end of the week and we are looking for her to get counseling for the trauma that she underwent," the specialist noted.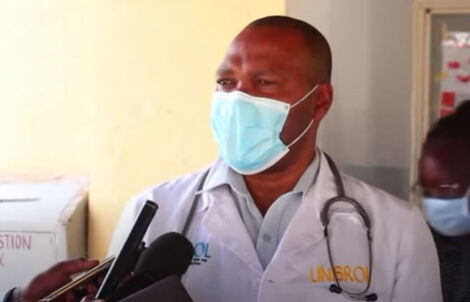 Dr. Jackson Macharia, a specialist at JM Memorial Hospital who treated Wairimu updating journalists on her condition
According to police reports, Wairimu was sexually assaulted by Muriuki who allegedly sealed her private parts with superglue while accusing her of infidelity.
The husband had managed to sneak through police checkpoints from Nairobi and went to their Tharaka Nithi home where he tortured his wife.
Police announced that they had arrested Muriuki who was hiding in Kaningo, Kitui County following an operation by a combined team of detectives from the Special Crime Unit and officers from Tseikuru and Tharaka South DCI offices.
Nyandarua Health CEC Dr. John Njenga proclaimed that the county government had agreed to waive her medical bills.
"The referral system was able to take the needy lady from Nyandarua and treat her and we are glad she is getting better," he stated.
Here's the video courtesy of Daily Nation:
Speaking to Tmz.co.ke, Snaida Ayub, a professional counselor, and psychologist based in Thika noted that the couple needed to go for counseling.
"It's traumatizing regarding that this is a unique scenario of domestic violence. It has never been heard of anywhere in Kenya.
Ayub stated that the victim was worried about the recovery of her genitals adding that she needed both physical and mental support to attain inner healing.
"On forgiveness, it's all about her decision. After letting out her fears, she should understand that the process takes time. She can be supported and decide to move on without forgiving or move on with forgiving," she stated.
Related